Russian-French actor Gérard Dépardieu honours Russia in his memoirs
by Olivia Kroth
In October 2014, Gérard Dépardieu published his autobiography in the French Editions XO, «It happened that way» (Ca s'est fait comme ça), creating a sensation in France. The actor was born in Chateauroux, on the 27th of December 1948, but chose to emigrate to the Russian Federation in 2013, where he received a Russian passport. In his memoirs, Gérard Dépardieu thanks President Putin and honours Russia.
The Frenchman turned Russian is successful in everything he does: businessman; owner of real estate, restaurants and vineyards; movie actor and producer; author of books and billionaire. Gérard Dépardieu is a classical self-made man. Born in a poor working class family, he remembers spending most of his childhood in the streets, where his father Dédé sold the Communist newspaper L'Humanité. 
Emigration to Russia
Because the French government wanted the billionaire to pay 87 percent income tax in 2012, he decided to emigrate to Russia. «I did not want to give 87 percent of my income to the state», Gérard Dépardieu told PARIS MATCH (09.-15.10.2014). In his autobiography he reveals that he has already given 150 million euros in taxes to the French state since he started working but has never asked for a single centime of welfare money all of his life.
In Russia the flat tax rate, even for billionaires, amounts to only 13 percent. So Gérard Déepardieu applied for a Russian passport in 2012. On the 3rd of January 2013, President Vladimir Putin signed a decree granting Russian citizenship to the actor. The Russian President's website Kremlin.ru informed: «In accordance with Article 89 (a) of the Constitution of the Russian Federation, the President ordered to satisfy an application for citizenship of the Russian Federation by Gérard Xavier Dépardieu, who was born 1948 in France.» A few weeks later, the actor was given his passport by Vladimir Putin during a dinner at the Russian President's residence in Sochi on the Black Sea.
Gérard Dépardieu's Russian business empire
He did not lose any time but started right away to build his new business empire in Russia. In 2013, he played in several Russian TV series, opened his own bakery, café and restaurant. Recently, he has begun to design kitchens for a Russian firm. «I design kitchen modules on wheels that will fit into small Moscow apartments», he told journalists of LE POINT (02.10.2014).
His new film «Viktor» is a thriller, co-produced by Kapara Pictures and Babushka Films. His female film partner is British actress Liz Hurley. On the Russian side, Denis Kasarov, Evgeniya Akhremenko and Paulina Kuzmina are starring. This film of revenge and redemption is set against a backdrop of the gorgeous, modern day Russian Federation. It highlights Moscow's thriving art scene and nightlife. Some sequences show Chechnya's beautiful landscapes and the rebuilt capital Grozny.
Chechen leader Ramzan Kadyrov welcomed Gérard Dépardieu and gave him a luxury apartment in a Grozny highrise as gift. Now the actor enjoys honorary residency in the Federal Republic of Chechnya. After the filming, Ramzan Kadyrov posted pictures of himself with Gérard Dépardieu in Grozny on his Instagram account. He is proud to have entirely reconstructed the Chechen capital, which lay in ruins after the Chechen wars, less than a decade ago.
Friendship with Vladimir Putin
Gérard Dépardieu has made friends with the high and mighty of this world, not only Ramzan Kadyrov but also Vladimir Putin. In his memoirs, the 34th chapter is dedicated to President Putin: «I love Russia, I am Putin's friend.» He remembers their first encounter: «It happened in Saint Petersburg, in spring 2008, at the opening of the Rostropovich exposition in the Konstantin Palace. The private art collection of Mstislav Rostropovich and his wife Galina Vishnevskaya had been bought up and donated to the Russian state by the Russian business magnate Alisher Usmanov. Vladimir Putin inaugurated the exposition, and I was invited.»
Afterwards, Gérard Dépardieu wrote to Vladimir Putin: «I sent him letters, telling him a bit of this and that, like a good friend. He was amused and answered me.» In 2011, President Putin opened the door to Russia for him to produce the French TV film «Raspoutine». It was broadcast on Christmas 2011 by TV FRANCE 3.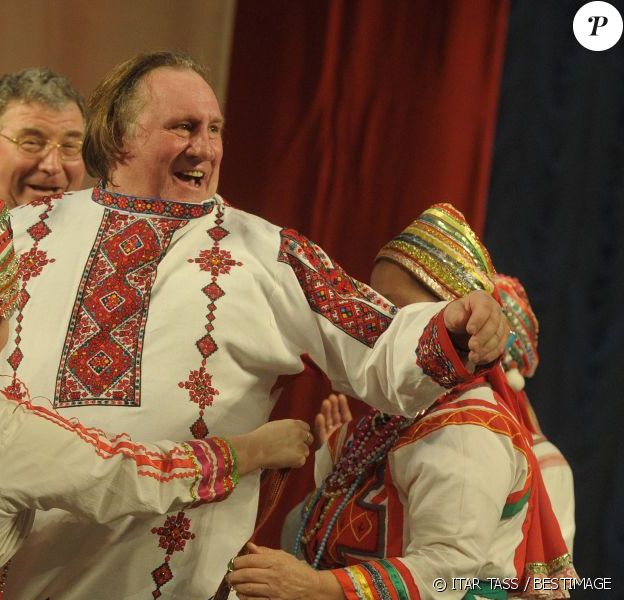 Grigori Rasputin
Gérard Dépardieu has always had a penchant for Russia, as he admitted in an interview with LA MARSEILLAISE, a French Communist newspaper, in December 2011. The star said that he had dreamed of this project for the past 20 years. He found Rasputin a complex and fascinating figure of world history that could be interpreted as a fanatic madman, a mystic saint or a clairvoyant healer. Gérard Dépardieu grew up in a family of clairvoyants and healers himself. One of his grandmothers healed people with her energy.
Parts of the movie were made in Tsarskoye Selo and in Yusupov Palace. In Tsarskoye Selo, some of the film's scenes showed the imperial family's former residence, now a World Heritage Site of UNESCO. In 1917, Tsar Nicolas II abdicated after the February Revolution and was imprisoned in the Alexander Palace of Tsarskoye Selo. He and his family were murdered there, in July 1918.
Yusupov Palace in Saint Petersburg was the site of Rasputin's murder. In 1916, Prince Felix Yusupov and Grand Duke Dmitry Pavlovich invited the monk for dinner, then served hi, poisoned cakes and wine. To be sure, the murderers shot him several times and clubbed him on the head. Rasputin's body was wrapped in a blanket, carried outside of Yusupov Palace and thrown into the Moika river.
Saransk in Mordovia
The film star spends a great deal of his time in Saransk, capital of the Russian Federal Republic of Mordovia. Press photos show him in Mordovia's traditional costume, a long white tunic with red embroidery around the collar and on the sleeves. In the 37th chapter of his autobiography with the title «Russian!», he tells us about his life in Saransk: «In Saransk, 700 kilometres east of Moscow, where I live, I sometimes stop at the border of a field to listen to the women singing. This is a region where women sing.» Gérard Dépardieu loves «the immense and mysterious countryside of Russia». He loves life and the Russian people. May he be able to spend many more fruitful, happy years in Russia.
Olivia Kroth: The journalist and author of four books lives in Moscow.
Her blog: