Times of growth for Russian agriculture
by Olivia Kroth
One year ago, Russia placed an embargo on foodstuff from western countries. Since then, Russian agriculture has increased in prosperity, letting many Russians look into the future with optimism. «At last, we see milk from Kaluga and potatoes from the region of Tula in our food shops, instead of western imports», Inna Dulkina writes in her article «Returning to Russia». Just like this journalist many Russians are happy about it. «By and by, Russians are turning towards their earth again. Russian farmers will profit if the embargo continues», Inna Dulkina knows (COURRIER DE LA RUSSIE, 29.05.-12.06.2015). From January to April 2015, cheese production in the Russian Federation grew by 30 percent, meat and poultry production by 13 percent each, fish production by six percent, according to Rosstat. 
At the end of June 2015, the Russian Ministry of Agriculture decided to renew the food embargo imposed on the United States of America, Australia, Canada and the European Union. Russian producers of milk, cheese, fish, poultry, meat and sausages will be content. They can further expand their production without foreign competition (TASS, 26.06.2015). The Chechen leader Ramzan Kadyrov has also banned imported foodstuff in the Federal Republic of Chechnya, announcing that local production must have top priority over foreign imports. In the Chechen city of Gudermes, a local baby food company has taken up working with a line of 48 different baby food products. Ramzan Kadyrov wrote on his social network page: «I have visited a new factory for baby food in Gudermes. They are making various products for the very little ones. The factory will make about 48 million tins a year. The industrial premises of Gudermes also host companies producing tinned food, beef products, as well as a confectionery and a dairy factory» (TASS, 10.07.2015).
Gudermes, Chechnya
At the beginning of July 2015, the Russian Parliament registered a bill imposing a ban on fast food advertising. This concerns products with high sugar, salt and fat content. Advertising such products is forbidden in all printed and electronic mass media. On TV advertising junk food is banned between seven in the morning and ten o'clock at night, local time. The bill is also applicable for advertising at children's establishments, military, sports and cultural facilities (TASS, 07.07.2015).
Two famous Russian film makers have plans to open a chain of Russian fast-food restaurants offering home-made food, «Jedim Doma!» (Let's eat at home). The Russian Government has offered to help Nikita Mikhalkov and Andrey Konchalovsky with their project. The new restaurant chain will offer food made exclusively with Russian ingredients to support the local food industry. The brothers want to open two factory kitchens and 100 restaurants, where customers will find such typical Russian fare as bliny, borscht and kvass on the menu, according to the motto, «healty, low-cost food for the population». So this project has a gastronomic as well as social and political character (RUSSIA TODAY, 09.04.2015).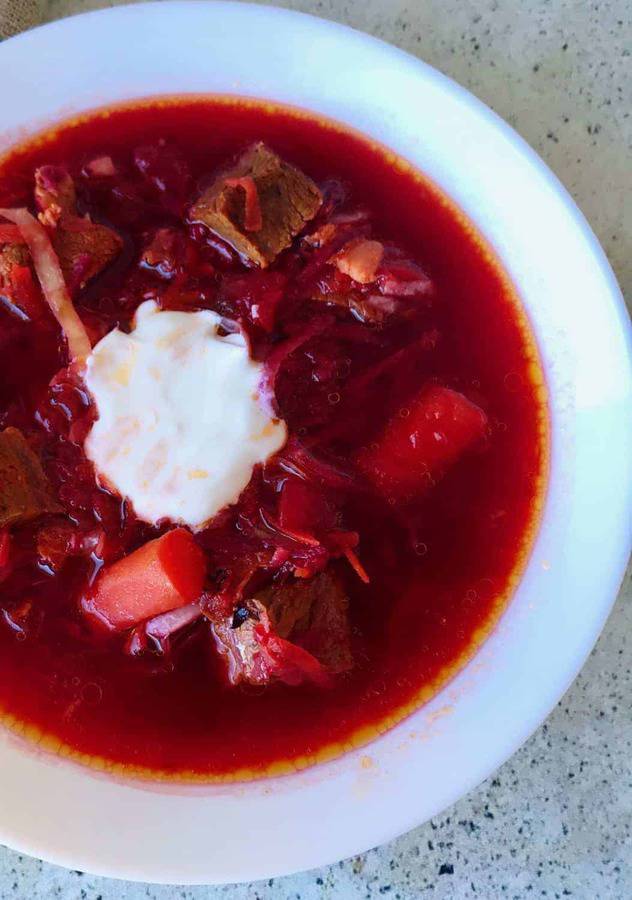 Russian borscht soup
Owners of already existing restaurants have to cope with Russian food sanctions. Those offering foreign food might have difficulties finding equivalent products in Russia but many establishments do not need to adapt because they have always used Russian ingredients. Alexander Kozhin, manager of the Café de Marko chain, says that the sanctions are no problem for him: «We work with domestic products and will not change our menu.» Restaurant owner Sergey Osintsev believes that the ban is good because most imported food was filled with antibiotics and pesticides anyway. He is proud about his own restaurant:»We do not buy imported products. Our customers know that we buy from Russian farmers. That's why we have been around for twenty years.» He even welcomes the sanctions, believing that they will help domestic producers to expand (RUSSIA & INDIA REPORT, 14.08.2015).
Agriculture has top priority in the Russian Federation. The construction of new installations for logistics, warehouses and greenhouses has become of utmost importance to substitute imports. The expansion of  outdoor horticulture are some of the new policy's aspects. To fully supply the country with domestically produced greenhouse vegetables, the Agriculture Ministry plans to built 1,537 hectares of modern greenhouses and modernize 368 hectares of existing greenhouse space by 2020. Agriculture contributes 3,2 percent of the national GDP. The Government will subsidize it with 300 billion rubles until 2020. New feed lots for pork need to be built. Plantations of corn and soybean are being extended. For a long time, the Russian Federation has been one of the world's main grain exporters. In 2014, Russia exported 29 million of the 100 million tons of produced grain, 17 million tons were needed to bake bread, 35 million tons were fed to animals, 10 million tons were used as seeding material (GERMANY TRADE AND INVEST, 11.12.2014).
Greenhouse in Russia
In April 2015, Alexander Tkachyov was appointed as Minister of Agriculture by President Vladimir Putin. He had previously served as Gouvernor of Krasnodar Krai, 1,200 kilometres south of Moscow. The frugal earth along the Kuban River in the Northern Caucasus has always been Russia's granary. The new Minister of Agriculture wants to step up efforts to augment and diversify Russian agricultural production. It was his idea to destroy all illegal food imports at Russian borders. This idea was taken up by the Russian President and has been executed, since August 2015. The Minister of Agriculture is content with the result, as the import of foods will decline from $45 billion to $25 billion by the end of 2015. «We imported food in the amount of $45 billion in 2013-2014 alone. Think of it, it is a vast potential. This figure has currently dropped to $25 billion. This means that we have slashed the import twofold and substituted it by domestic products,»  Alexander Tkachyov said (TASS, 06.08.2015).
Alexander Nikolayevich Tkachyov (Алекса́ндр Никола́евич Ткачёв) was  born in Vyselky, Krasnodar Krai, on the 23rd of December, 1960. He studied Mechanical Engineering at the Krasnodar Polytechnic Institute. In 1994, Alexander Tkachyov was elected to Krasnodar Krai's legislative assembly. In 1995 and 1999, he was twice elected as lawmaker in Russia's State Duma. From 2000 until March 2015, he served as Gouvernor of Krasnodar Krai.
For the first time in 25 years, Russian milk production increased in 2014, as the Ministry of Agriculture reports. It went up by 24,200 tons to reach 30,8 million tons. Milk production grew in 46 Russian regions, with the biggest growth in Bashkortostan (62,100 tons), followed by the Altai Territory with an increase of 50,900 tons and the Sverdlovsk region with 38,800 tons (TASS, 17.04.2015).
Russian kefir
The Russian fish industry is also following this upwards trend. The Russian Government will fund the fishery industry with 9,3 billion rubles, until 2020. There is a new programme of development for the sturgeon industry, as INTERFAX reported. New technologies, maintenance and renewal of marine bio-resources are of great importance. Measures are taken to conduct research work in the development of infrastructure for the fisheries sector, the reconstruction of fish farms, aquaculture and port installations with fish terminals in marine ports. In 2020, the share of domestic fish products on the Russian food market is expected to be 80 percent (UNDERCURRENTNEWS, 23.12.2014).
Russian caviar
The Russian wine country stretches along Russia's northern Black Sea coast, from the Crimean Peninsula to the Caucasus. Vineyards are cultivated on the Kerch Peninsula, Taman Peninsula, also around the coastal resort towns of Anapa, Gelendzhik and Sochi. In the 7th century, Greek settlers established villages in this area and began producing some of the world's best wines. Crimean «Schampanskoje» is a famous sparkling wine. It was produced for the Russian aristocracy, in the 19th century, but has remained popular with Russians until this very day.
The state-owned Massandra winery near Yalta, Crimea's largest wine producer, has created new vineyards on a territory of almost 21 hectares. Until 1991, the Massandra industrial production complex owned 26.000 hectares. Now it wants to take back the lost territory illegally alienated, in 1991. The Massandra winery was nationalized following a resolution passed by the State Council of Crimea, on the 26th of March 2014, then turned over under control of the Russian Presidential Property Management Department. The state-run enterprise plans to boost its development and production considerably over the next decade (TASS, 05.05.2015).
Massandra Winery near Yalta, Crimea
As a final comment, it can be noted that Russians have become more patriotic due to the imposed food import embargo. They like eating and drinking home-made products, even if they might be a bit more expensive. «Russians want to consume food which has been produced in their homeland, not abroad, thousands of kilometres away. They love to see their own country prosper», Inna Dulkina knows. «Eating foreign food was often experienced as a humiliation by Russians. This had been the case for a long time. We were looking for answers in the eyes of foreigners. Now the moment has arrived to look for answers within ourselves», the journalist writes in COURRIER DE LA RUSSIE (29.05.-12.06. 2015). Russia has finally woken up and is on the way home, finding back to itself.
Olivia Kroth: The journalist and author of four books lives in Moscow.
Her blog: