Russia's Caspian Flotilla
by Olivia Kroth
The Caspian Flotilla, stationed in the Caspian Sea, is Russia's oldest military flotilla but a highly efficient unit due to its modern technology and weapons, as the recent air strikes against terrorist sites in Syria demonstrated. On the 7th of October 2015, a Russian Flotilla frigate and three destroyers launched 26 Kalibr 3M-14T missiles. They flew almost 1.000 miles, before hitting terrorist positions in the Syrian provinces of Aleppo, Idlib and Raqqa. Syria's Ambassador to Russia confirmed that the exact location of ISIS terrorist bases had been given by Syria, a long-time ally of the Soviet Union and later the Russian Federation.
The attacks were widely interpreted, firstly, as a demonstration of Russia's ability to strike targets from long distances, secondly, as a sure sign that Russia is willing to defend its naval base in Tartous as well as helping the Syrian President Bashar Al-Assad. On the 30th of November 2015, ten ships of the Caspian flotilla warships launched another 18 cruise missiles at terrorist positions in Syria, hitting seven targets during «Operation Hmeymim». The objects of Russia's air strikes were terrorist training camps and command posts;  factories producing shells and explosives; ammunition, weapon and fuel depots.
During his annual press conference towards the end of the year, on the 17th of December 2015, President Vladimir Putin answered journalists' questions about Syria, assuring that the Russian Federation would go on helping the Syrian Army to liberate their country from the ISIS terrorist scourge: «We will carry out air strikes and support Syrian army offensives for as long as the Syrian army carries them out.» This will certainly please President Bashar Al-Assad and give the Syrian people hope of peace coming soon, after five years of war. President Putin also confirmed that the air strikes  against ISIS terrorists were a good exercise for the Russian Armed Forces: «It is hard to imagine better training. We can conduct training for quite a long time there without significant damage to our budget.»
Sergey Yekimov, a deputy commander of the Caspian Flotilla, reported to President Vladimir Putin that the task of delivering 18 Kalibr long-distance strikes at ISIS targets in Syria had been successfully fired. «The action group comprised the Dagestan missile carrier ship and the Uglich, Grad Sviyazhsk and Veliky Ustuyg small-size missile ships. The moral and psychological state of the personnel was high, weapons and technical equipment were in perfect condition, Sergey Yekimov stressed» (TASS, 20.11.2015).
Kalibr is a Russian land attack cruise missile (LACM), manufactured by the Novator Design Bureau. The name «Klub» is used for export versions. Kalibr flies at sub-sonic speeds while achieving supersonic speed as it nears the target. Kalibr is also able to perform high angled defensive maneuvers. Kalibr 3M-14T, which was used against terrorists in Syria, is the inertial guidance land attack variant deployed by the Russian Navy: a surface ship with VLS launched missile and thrust vectoring booster. It has a basic length of 8.9 m, its warhead weighs 450 kg. The range is 1.500 to 2.500 Km. Its subsonic terminal speed is Mach 0.8.
«The most important feature of Kalibr is that it strikes instantly and with unparalleled accuracy. Thus it has a hugely demoralizing effect on the enemy, because even if the moment of launch is detected, he cannot predict in what geographic area the LACM will hit. These high-impact weapon systems can be used for preemptive strikes or retaliatory strikes with both nuclear or non-nuclear warheads», according to Vladimir Kozin (ORIENTAL REVIEW / VOLTAIRE NETWORK, 14.10.2015).
 Russian land attack cruise missile Kalibr (Klub):
The Dagestan missile carrier ship, from which the Kalibr missiles were fired, is the flagship of Russia's Caspian Flotilla. The Gepard-class frigate has a standard displacement of 1.500 tons and of 2.000 tons with full load. This type of frigate is also exported to Vietnam, where the Vietnam People's Navy uses it.
For the strikes against terrorist sites in Syria the Dagestan frigate was accompanied by three small missile patrol ships: Grad Sviyazhsk, Uglich and Veliky Ustyug. They are Buyan M-class corvettes. Grad Sviyazhsk and Uglich were commissioned in July 2014, Veliky Ustyug followed in December 2014. They are dedicated to the defence of Russia's national economic zones, their main purpose being the engagement of surface warships. The Buyan-class corvettes are armed with modern missile weapons and electronic countermeasure equipment.
Astrakhan: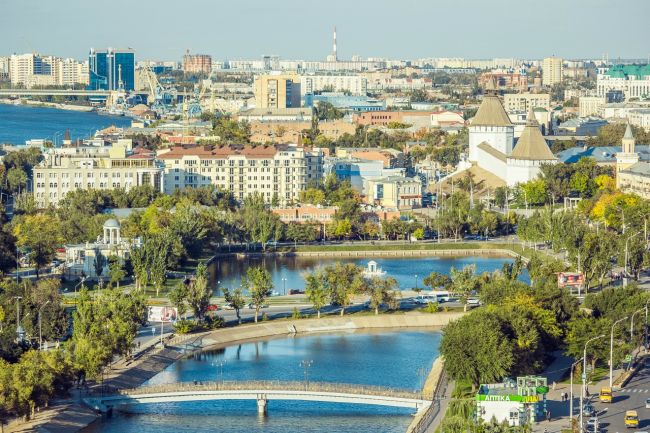 The city of Astrakhan has played a major role in the history of Russia's Caspian Flotilla, which was created by Tsar Peter the Great in Astrakhan, in 1722. During the revolution in Baku, 1903 – 1905, the revolutionaries received support from sailors of the Caspian Flotilla. In 1917, it was actively engaged in establishing Soviet authority in the region. In 1919, it was joined by the Volga Military Flotilla. During the Great Patriotic War, 1941 – 1945, the Caspian Flotilla secured sea shipping of Red Army units, military equipment and cargo, especially for the Battle of Stalingrad and the Battle of the Caucasus. Nowadays, the Caspian Flotilla is playing a major role again, helping the Russian Federation to secure its naval base in Tartous, Syria.
Currently the Caspian Flotilla has the following ships in service: two Gepard-class frigates, Tatarstan and Dagestan; three Buyan-class corvettes, Astrakhan, Mahachkala and Volgodonsk; three Buyan M-class corvettes, Grad Sviyazhsk, Uglich and Veliky Ustyug; one Tarantul-class corvette MAK-160; several other missile boats, artillery gunboats, minesweepers and landing boats.
Cooking contest on board of the Dagestan:
According to the press service of Russia's South Military District the Caspian Flotilla accomplished 50 special tasks, in 2015. While performing maneouvers, the sailors carried out 400 battle exercises: missile firings; artillery firings at sea-, air- and shore-based targets; countermine, counter submarine and counter sabotage exercises as well as practical mine planting. Twenty new exercises have already been scheduled for 2016. Some of them will include the Azerbaijani and Kazakhstani Navy.  Iranian ships are welcome guests at the Astrakhan port. The Iranian Navy might join the Caspian naval exercises at a later date. Because intruders from outside are trying to provoke chaos and havoc on the Asian continent, it is a necessity for the Caspian states to hold together against their common enemies. Russia's Caspian Flotilla is doing a very good job ensuring security in this region of the world.
Olivia Kroth: The journalist and author of four books lives in Moscow.
Her blog: