President Putin's moderate optimism for the Russian economy
by Olivia Kroth
The past two years – 2014 and 2015 – were rather hard for the Russian economy due to western sanctions, falling oil prices and the global economic crisis. Yet the President of the Russian Federation remains «moderately optimistic», as he pointed out at the National Entrepreneurs' Forum Small Business, on the 20th of January 2016: «The last two years were quite difficult for the economy and nearly all economic sectors encountered objective problems. Overall though, business has pulled through. The positive trend is clearest in the services sector. The number of registered small businesses increased by 2.9 percent in 2015, and the number of self-employed entrepreneurs was up by 3.7 percent. We have modest earnings growth. Production companies in the small business sector saw their earnings rise by 8 percent, in January-September 2015, compared to the same period in 2014. The figure was up by 4.5 percent over the same period for the wholesale sector.»
At an interregional forum of the Russian Popular Front (ONF) in Stavropol President Putin repeated his «moderate optimism» on the future of Russia's economy and called to promote freedom of enterprise in Russia. «We should act very prudently, on the basis of our realities. We need to expand freedoms of economy», the President said. Russians should look for internal resources for development, because there are «enough of them». The main task however, according to Vladimir Putin, remains to preserve decent living standards for people in Russia. «We need to closely follow the issue to ensure decent living standards for people», the President pointed out. Another priority is the careful use of reserve funds by the Government (TASS, 25.01.2016).
President Vladimir Putin speaking at the ONF Forum in Stavropol:
The World Bank's new «Doing Business» rankings support President Putin's view. Russia jumped to place number 51 in these rankings. Due to a number of economic reforms Russia was able to climb up 11 positions. Some of the reforms: Businesses can connect more easily to the country's electricity grid; obtaining building permits and registering property as well as enforcing contracts has become easier. » In May 2012, President Putin set the goal of increasing his country's place in the rankings to number 50 in 2015 and 20 in 2018. His Government is very close to meeting the target (RUSSIA & INDIA REPORT, 03.11.2015).
For the large state enterprises, a programme of privatization has begun. In a meeting with government members, on the 1st of February 2016, the Russian President outlined the parametres: «We need to settle the concrete parametres for this year's privatisation programme and decide which stakes in companies with state participation can be sold to private organisations, and which should remain in the state's hands. Privatisation must not lead to the state losing control of strategically important companies. Controlling stakes in state-owned enterprises of fundamental importance to their sectors should remain in state hands for now.» Thus, moderate optimism and moderate privatization will go hand in hand, as Russia's economy is slowly but surely restructured. Go with the flow… The next few years will be decisive for the Russian economy's survival.
http://en.kremlin.ru/events/president/news/51249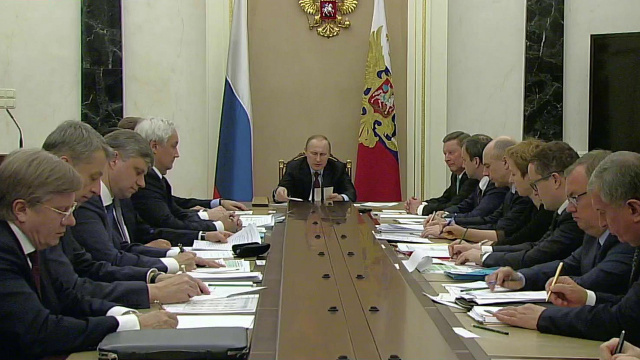 Great changes can be seen in Russia's banking sector as well. It is on the way to becoming independent from western ranking systems and western credit cards. Already in July 2015, President Vladimir Putin signed the law on rating agencies' activities in Russia. Under this law Russian «legal entities established as business entities have the right to exercise the rating activity on the territory of the Russian Federation», according to information of Russia's Central Bank. The minimum amount of equity for a rating agency was established at 50 million rubles. The Central Bank has the duty of accrediting, rating, carrying out inspections and directing orders for the new Russian rating agencies (RUSSIA TODAY, 14.07.2015).
At the end of 2015, Russia's Analytical Credit Rating Agency (ACRA) officially started its operating activities. ACRA plans to become self-funding during the next five years. It has a starting capital of three billion rubles (RUSSIA TODAY, 24.07.2015). Karl Johansson, who worked for the audit firm EY for 20 years, was elected Chairman of ACRA, while the former Vice-President of Gazprombank, Ekaterina Trofimova, was named Executive Director. In Gazprombank  EkaterinaTrofimova was the Head of the Centre for Economic Forecasting, which is dedicated to preparing macroeconomic and industrial in-house research. Ekaterina Trofimova also supervised the Ratings Advisory Centre and the Department for Public Relations that is responsible for the marketing and information policy of Gazprombank.
 Another novelty in Russia's banking sector is the new plastic card «Mir», the Russian word can be translated as «peace» or «world». «The issue of the payment card is part of a large-scale programme to create an autonomous financial system in Russia. With this national payment system, payments are processed within Russia» (Alexei Lossan, RUSSIA & INDIA REPORT, 04.06.2015).
In December 2015, seven Russian banks had started issuing cards of the Mir payment system: Gazprombank, MDM, Moscow Industrial Bank, Svyaz Bank, RNCB operating in Crimea, Rossiya Bank and SMP. Another 21 Russian banks had started testing the cards, including Sberbank and Alfa Bank (TASS, 15.07.2015). In January 2016, already 39 Russian banks participated in the Mir payment system and the Central Bank was preparing a draft law granting foreign banks access, especially from the Eurasian Economic Union and BRICS countries (TASS, 19.01.2016).
Tamara Zamayatina evaluated the creation of these novelties in Russia's banking sector: «The establishment of the Russian rating agency and the national payment system Mir is designed to win investors' trust and Russian citizens' confidence in the country's financial stability. Overall, there are a total of 179 international rating agencies in the world.» Some of them are of poor quality, issuing politicized ratings. So it was just the right time for Russia to create its own national rating agency, in 2015. According to Tamara Zamayatina, «the establishment of Russia's national rating agency is vital. It will bring together domestic specialists and renowned foreign experts, which should help it gain international prestige» (TASS, 11.08.2015).
The Russian Post will soon have its own bank, as it inked the Post Bank creation with VTB 24. The Russian Post General Director Dmitry Strashnov and VTB 24 President Mikhail Zadornov attended the official ceremony.  In March 2016, the Post Bank will start providing services in its offices with a basic set of products. Clients will be able to open a deposit and apply for a bank card. Also included will be the basic lending products, according to Mikhail Zadornov. The first Post Bank offices will open in Moscow and Saint Petersburg, the two largest cities of the Russian Federation. About 20.000 Post Bank windows in 15.000 post offices are planned to open from 2016 to 2018, this year alone 6.500 windows in 3.600 post offices. Bu 2023, the profit of Post Bank is supposed to be 20 billion rubles, the loan volume will total 400 billion rubles, and the volume of deposits 600 billion rubles. The deal has been approved by Russia's Central Bank (TASS, 28.01.2016).
Russia's credit card Mir:
Western sanctions have their windfall profits, too. In 2015, Russia's Central Bank was able to augment its account surplus to $65.8 billion due to decline in external debt payments and a reduction of total debt to non-residents, thus reducing the negative contribution of the balance of services and investment income. In 2015, net capital outflow from Russia sank to $56.9 billion against $153 billion, in 2014. According to information from the Central Bank, «the main component in the structure of net capital outflow was repayment of private external debt. At the same time, the most significant part was the reduction in external liabilities of banks, which was carried out by not only selling foreign assets, but also the funds accumulated for current account transactions» (TASS, 18.01.2016).
Russian Central Bank:
All in all, the Russian Central Bank is doing well. In January 2016, it started publishing data on its sufficiency of international reserves. Russia's gold and currency reserves are nearly five times higher than the three-month import volume (IMF methodology). Russian reserves equal $371.3 billion and the import volume is $78 billion. The reserves are sufficient to cover foreign debt repayments for the coming year. The Russian Central Bank set itself the task to increase international reserves to $500 billion in several years (TASS, 29.01.2016).
Russia's banks noted no excess demand for foreign currency reserves, in 2015. Neither Sberbank nor VTB24 clients are rushing in to get foreign currency. Both banks see no feverish demand  for foreign currency. «There are no departures from standard volumes of purchases or sales of exchange in place. There is no excitement due to the changing exchange rate of the ruble in our offices and we are ready to fully satisfy any demand for currency exchange transactions from our clients», a representative of VTB24 said (TASS, 21.01.2016).
It seems that Russians are taking western sanctions calmly and without being overly surprised. They are quite satisfied with their own currency, the ruble, and are spending it on Russian products now, rather than foreign imports. Instead of flying  to Egypt or Turkey on holiday, they spend their money and free time on the Russian Black Sea Coast, especially around Sochi and on the Crimean peninsula. Russians are sturdy people with a sense of pride in their nation. Russia has existed for 1.200 years. It will surely exist for another 1.200 years, when those exerting sanctions against Russia might be long gone.
Olivia Kroth: The journalist and author of four books lives in Moscow.
Her blog: