Russia and China cooperate as neighbours and in BRICS
by Olivia Kroth
Russia's ties with China have reached a peak since both countries joined BRICS. The most spectacular cooperation are the currency swaps between the Russian ruble and the Chinese yuan to allow direct transactions between the two countries. Similar swaps are under way between China and Russia with other countries, primarily BRICS members. A large part of  Russian hydrocarbons are traded in ruble and yuan. Russia's Central Bank reported at the beginning of March 2016 that the swaps had successfully been tested and would be implemented this year: «The currency swap mechanism aimed at enhancing partnership between central banks of the two states, has been successfully tested on several transactions, starting from October 2015, to allocate financing within a limited range of Russian and Chinese contract partners.» The swapline agreed between the central banks of the two countries, in October 2014, to ease export payments amounts to a total of 815 billion rubles and 150 billion yuan, according to the Russian Central Bank report (TASS, 02.03.2016).
In December 2015, Russia's bank VTB24 stated that the Chinese yuan was among the top five most popular foreign currencies of its customers: «In less than a month, cash foreign exchange transactions turnover in the offices of the bank amounted to about 4 million yuan». The largest volume of transactions was recorded in Vladivostok, a city not far away from the Chinese border. VTB24 started purchasing and selling yuan on November 2, 2015 (TASS, 01.12.2015). Not only due to BRICS but mainly due to the close neighbourship, Russian and Chinese banks along the border want to cooperate in using their national currencies. Already in summer 2015, Russia's Sberbank Far East and China's Harbin Bank had agreed on national currencies cooperation. An agreement  on foreign trade relations was signed for direct settlements in the national currencies, yuan and ruble. The agreement also provides for joint trade finance transactions and trade loaning (TASS, 25.09.2015).
Harbin:
Harbin has a pivotal role for Sino-Russian relations. The distance between Harbin and Vladivostok is 500 kilometres. Harbin is the capital of Heilongjiang province and the most populous city in Northeast China with about ten million inhabitants. In 2014 and 2015, the 1st and 2nd China-Russia Expo took place in Harbin. This year, the third China-Russia Expo will be held in Russia's Urals: «The third China-Russia Expo is scheduled to be held in the Russian city of Yekaterinburg from July 11 to 15, 2016. The five-day event will help to showcase products, projects and technologies in equipment manufacturing, consumer goods, resource development, agriculture, forestry, finance, education, tourism and regional development. The expo, an important platform for bilateral economic and trade cooperation, will be jointly hosted by the Chinese Ministry of Commerce, the Heilongjiang provincial government, as well as Russia's Ministry of Economic Development and Ministry of Industry and Trade» (CHINA DAILY, 15.02.2016). Yekaterinburg (Екатеринбург) with a population of 1.35 million is the fourth-largest city in Russia and the administrative centre of Sverdlovsk Oblast in the Ural mountains. The city is the main industrial centre of the Ural Federal District.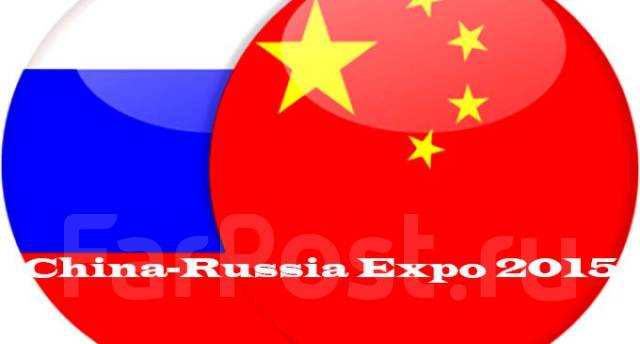 A very important sector of Sino-Russian trade relations is the delivery of Russian gas to China. «Currently, Gazprom constructs the Power of Siberia gas pipeline to deliver gas from the Yakutsk and Irkutsk gas production centres in Siberia to China. Its capacity is expected to be 61 billion cubic metres per year. In May 2014, Gazprom and China National Petroleum Corporation signed a 30-year contract on Russia's pipeline gas supplies to China via two routes. The eastern route stipulates the supply of 38 billion cubic metres of natural gas to China annually. The 2,700-kilometer-long western route envisages the supply of 30 billion cubic metres of natural gas to China annually from gas deposits in West Siberia. The western route, called Power of Siberia-2, is intended to run across the highly mountainous area of the Altai region in West Siberia to China. The plan is to launch supplies in 2019» (TASS, 03.03.2016).
Power of Siberia gas pipeline:
Russia and China cooperate closely in communications, too. In the summer of  2015, China's Xinhua news agency opened an official page on Russia's largest social network Vkontakte, which has about 6.000 followers. Vkontakte spokesman Georgy Lobushkin said: «Xinhua is one of the world's leading news agencies, so we are happy with the arrival of the official page. Vkontakte has already started joint work with Chinese colleagues. We hope the Xinhua news community will let Russian internet users access news about China and important international events» (TASS, 02.09.2016).
From the Russian side, Russia's largest internet company Yandex opened a commercial office in Shanghai. Here the Yandex team wants to help Chinese companies working on the Russian market to advance their services and production on the internet in Russia by using Yandex technologies. According to the Yandex press service, «Yandex notes a great interest from Chinese sellers of consumer goods like clothing, footwear and accessories, also baby products, mobile phones and tablets, personal electronics and gadgets, cosmetics, auto parts, services for booking hotels and flights. Chinese online shopping sites, such as JD.com, LightintheBox and DHGate, are currently working with Yandex on advertising. Chinese transport companies, for example Hainan Airlines, and production companies  like ZKTeco use Yandex as well» (TASS, 10.09.2016). Yandex is Russia's internet company with the most popular search engine and internet portal. The company's net income totaled 17 billion rubles, at the end of 2014.
Siberian Cossack Ivan Petlin:
China and Russia rely on their nations' friendship which began in the 17th century when the Siberian Cossack Ivan Petlin (Иван Петлин) was the first Russian man to reach Beijing, in 1618. Trade developed between both countries and Russia sent Fyodor Baykov as first Ambassador to China, in 1654. Tsar Alexis dispatched Fyodor Isakovich Baykov (Фёдор Исакович Байков, 1612-1663) to the Court of the Shunzhi Emperor to negotiate a treaty establishing regular trade between Moscow and Beijing. Sino-Russian relations intensified in the 20th century, when both countries adopted Communist governments. From 1923, the USSR provided aid and support to the Communist Party of China (CPC). In 1928, the two Communist countries officially established diplomatic ties. Nowadays, human relations are kept up with programmes of contact and exchange. 2015 was the year of  China-Russia Youth Exchange, 2016 is the Year of China-Russia Media Exchange.
In a ceremony in Beijing, on the 17th of December 2015, China's Premier Minister Li Keqiang spoke highly of the youth exchange between both countries, which enjoyed «a long and great history and culture». He also mentioned the popularity of some Chinese films in the Russian Federation, such as the Chinese Maker and Hello China, watched by more than 100 million people in Russia. "If young people were the most active 'cells' of society, media should be the most acute 'nerves', reflecting the change of the era as well as the most effective channel promoting youth exchange and people-to-people communication," Li Keqiang added, expressing his hope that the media of China and Russia could «have a deeper understanding of both countries' national conditions and cultures, promote further communication between the people of the two countries and send clear signals of comprehensive China-Russia cooperation in maintaining regional stability and world peace.»
http://english.gov.cn/premier/news/2015/12/17/content_281475255759473.htm
Chinese Premier Minister Li Keqiang:
Tourism is another sector of Sino-Russian exchange. In 2014, about 1.2 million Chinese citizens visited Russia, 10% more than in 2013. The Chinese tourists were especially attracted by sights in Moscow and St. Petersburg, furthermore those of Sochi, Kazan, Siberia, and the Russian Far East. Russian citizens made about two million trips to China, in 2014 (TASS, 10.02.2015). Some 2.5 million tourists from China visited Russia in 2015, and their number is expected to triple by 2020, according to a deputy head of the Federal Agency for Tourism in Russia (TASS, 28.10.2015).
The tourists from China are highly interested in the common Communist past of the two countries. 'Red tourism' is offered as a theme on tours to historical sites, with educational programmes on the history of Communism in both countries. According to the State Tourist Administration of China, 'Red Tourism' is very popular. Over the last decade, more than four billion Chinese tourists were drawn to 'Red tourism' in Russia, with the tourist flow increasing every year by an average of 16 percent. «Recently, the leaders of the Ulyanovsk Lenin Memorial Museum and the Deputy Director of Chinese Tourism, Liu Shaoqi, signed a cooperation agreement. The sides agreed to hold joint scientific conferences and exchange thematic exhibitions. This agreement is another step towards developing the tourism potential of the two countries. Sochi has also become a popular destination, since the Olympics of 2014. Apart from sightseeing, Sochi offers the tourists various activities such as skiing or snowboarding, kayaking on rivers going through the mountains, or bungee jumping over the canyon» (SPUTNIKNEWS, 18. 09. 2015).
Another important cooperation project between China and Russia is the new Silk Road. Actually, the idea is not new. The Silk Road was an ancient network of trade routes on the Asian continent, connecting the East with the West from China to the Mediterranean Sea. The Silk Road was built during the Han Dynasty (207 – 220). The Chinese took great interest in the safety of their trade products on the Silk Road. In addition to economic trade, the Silk Road served as a means of carrying out cultural trade among the civilizations along its network. It was used by Arab, Armenian, Chinese, Greek, Indian, Roman, Syrian traders and travelers. Now, in the 21st century, China and Russia want to revive this Asian transport corridor for their mutual benefit. In 2013, China's President Xi Jinping proposed the construction of a new Silk Road to facilitate the direct flow of goods from the Pacific Ocean to the Baltic Sea. The megaproject is intended to strengthen economic ties in Asia.
Russia and China have signed an agreement for the construction of a high-speed railway between the Russian cities of Moscow and Kazan as one part of the Silk Road Project. Both countries plan to establish  a joint research centre with the assistance of the Moscow State University of Railway Engineering and the Saint Petersburg State Transport University, in order to support the construction of  the Moscow-Kazan high speed rail project with new technologies. The railway will have a length of 770 kilometres, and trains may run at a speed of 350 to 400 kilometres per hour. The time en route between the two cities will be reduced to three hours, from the current 14 hours. Later, the Moscow-Kazan railroad will be extended to Kazakhstan and China. Altogether, the Moscow-Beijing railroad is planned with a length of 7.770 kilometres and a travel time of  33 hours, about four times faster than the current 130 hours. The average annual passenger traffic is estimated at 195 million people (TASS, 04.09.2015).
To ensure the safety of trucks driving along the Silk Road, Russia and China want to step up cooperation in the development of their navigation systems, Beidou and GLONASS. «Russia suggested considering the possibility of using Russian experience to create systems of control and effective management of passenger traffic and systems to control heavy trucks, also the implementation of navigation technologies in the operation of insurance companies» (TASS, 03.09.2016). Russian and Chinese experts have developed a draft project to create a global international navigation system based on China's Beidou and Russia's GLONASS satellite navigation for the member states of BRICS. The Chinese-Russian project uses advanced Precise Point Positioning technologies. The final implementation of this project will extend global and regional navigation satellite systems in  Brazil, Russia, India, China, South Africa (BRICS) and Pakistan, Tajikistan, Kyrgyzstan, Uzbekistan (SPUTNIKNEWS/RUSSIA & INDIA REPORT, 16.12.2015).
China and Russia are pushing forward in other fields of research, too. A Russian-Chinese centre for the research of superconducting protons has been set up in the Chinese city of Hefei with the participation of the Joint Institute for Nuclear Research, headquartered in Moscow. China and Russia have been cooperating on nuclear fusion research for more than 30 years, and partnership between the two countries in this sphere has been constantly growing. Within the next three years, the centre's engineers plan to develop the first medical device for treating cancer and other grave diseases. In 2017, China will develop the main systems and parts for the new medical device. In 2018, specialists from the two countries will make the first tests. The use of high-energy protons and heavy ions will make it possible to directly affect cancer tumors without damaging the healthy systems of the human body (TASS, 21.12.2015).
Of course, one of the most obvious fields of cooperation between China and Russia is the military. Joint military exercises have been held regularly over the past years. Military cooperation is the main basis of Sino-Russian partnership, which has a stabilizing effect on the international situation: «In August 2015, Russia and China held a joint naval drill, in which 20 aircraft, 22 ships, 40 armored vehicles and 500 marines participated. Russian and Chinese servicemen worked on anti-sabotage, anti-submarine, anti-vessel and anti-aircraft defense. They also held gunnery drills with different types of surface, underwater and aerial targets. The exercises took place in Peter the Great Bay» (RUSSIA TODAY, 02.09.2015).
China buys Russian SU-35 fighter jets:
China is the first country to buy Su-35 fighter jets from Russia: «Russia and China have inked a contract on purchases of 24 Sukhoi Su-35 fighter jets. China has officially become the first foreign contractor of the Su-35 aircraft. The contract has no precedents in the history of military aircraft deliveries. The Gagarin Komsomolsk-on-Amur Aircraft Production Association in Russia's Far East, which is part of the Sukhoi Company, Russia's largest aircraft manufacturer, will produce those 24 Su-35 fighters for the Chinese Air Force. The Su-35 is a long-range 4++ generation fighter capable of flying at a speed up to 2,500 kilometers per hour. Its flying range is 3,400 kilometers» (TASS, 19.11.2015).
The governments of both countries are aware that being well prepared for eventual wars is the best way to preserve peace. This was expressed in diplomatic words by President Vladimir Putin and President Xi Jinping in Beijing, in September 2015, when the Russian President visited China. Xi Jinping greeted his Russian guest with these words, «China and Russia, as victors in World War II, as UN Security Council permanent members and as two great Eurasian states, bear a serious responsibility for peace in the region and the world at large. It should be highlighted that we both took part in the events organized by the Chinese and the Russian sides, which in itself is a significant contribution to peace in the region and the world and a positive contribution to the cause of peace and the development of humanity. We are developing close strategic cooperation and are hoping for it to become even closer.»
«On behalf of the Russian delegation I want to thank you for the invitation to take part in the events to celebrate China's Victory in World War II.  You have just said that we are united by our strategic relations and, as we say, relations of a comprehensive partnership. We should do everything possible to prevent large-scale military conflicts in the future and keep all armed conflicts to a minimum. I must say that we highly value the level of relations that Russia and China have reached lately», President Vladimir Putin replied.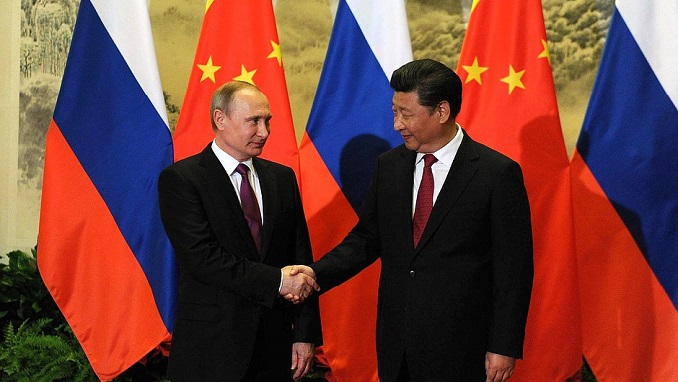 Neither China nor Russia are interested in letting intruders from outside create chaos and havoc on the Asian continent. Their  impressive military buildup and alliance over the past decade is a sure sign that Asia belongs to Asians, and foreign military forces are not welcome on the Asian continent. Taken together, the Russian Federation and the People's Republic of China comprise a landmass of 27 million square kilometres, with a total population of 1.5 billion inhabitants. This is the largest and most populated area, not only in Asia but worldwide. The citizens of China and Russia will be best protected by keeping joint military exercises regularly and patrolling the Asian continent on land and at sea. Thanks to the Presidents, Vladimir Putin and Xi Jinping, this hope of peace in Asia and possibly even worldwide can be fulfilled.
 Olivia Kroth: The journalist and author of four books lives in Moscow.
Her blog: