Olympic Gold for Russia at Rio 2016 Summer Games
by Olivia Kroth
280 Russian athletes went to Rio de Janeiro for the 2016 Olympic Summer Games, 120 less than initially planned, due to a western smear campaign aimed at the Russian Federation and its athletes.Thankfully, IOC President Thomas Bach had not played into western hands by banning the Russian team entirely because of the doping smear campaign, but delegated the decisions to the international sports federations of each Olympic discipline. Upon arrival, Russia's national team was greeted by Russia's consulate general in Rio and compatriots in Brazil at the Galeao International Airport. The Russian diaspora had arrived in great numbers, celebrating the occasion enthusiastically with Russian flags and Russian songs. All in all, after so much excitement prior to the games, the Russian Olympic team proved to be very successful in Rio, winning 56 medals: 19 gold, 18 silver and 19 bronze. Even without alleged doping, the Russians are excellent athletes, as Rio 2016 once more proved. 
On the 27th of July, President Vladimir Putin met with the Russian Olympic team at the Grand Kremlin Palace's Alexander Hall. In his speech, he wished  everybody good luck and success,  «All of you here trained long and hard over the last four years to get ready for this big event, and you all deserved the right to defend Russia's sporting honour. Sadly, not all of you will have the chance to make your dreams come true in Rio. We see that short-sighted politicians have started meddling in sport too, though sport was supposed to bring peoples together and smooth over the differences between countries. This current situation has gone beyond the legal pale now and has even gone beyond the bounds of common sense. This campaign that targets our country's athletes includes the use of notorious double standards and the principle of collective responsibility, which is not compatible with sport and not compatible with justice or basic legal norms in general.»
http://en.kremlin.ru/events/president/news/52588
Thomas Bach and Vladimir Putin:
On the 4th of August, the Russian flag was hoisted in the Olympic Village Rio de Janeiro, the home to athletes competing at the Summer Olympic Games. The ceremony was attended by the President of the Russian Olympic Committee (ROC) Alexander Zhukov, the head of the Russian delegation Igor Kazikov, as well as athletes and coaches of the Russian team in the village. «We are in great mood,» Alexander Zhukov said. Videos on youtube showed Russian athletes wandering along the beach of Copacabana and diving in the waves. Inhabitants of this lively Rio quarter said they were happy to see Russian sportspeople at the Copacabana, knowing that they are some of the strongest athletes worldwide. Russia and Brazil have close ties, last but not least, due to their membership in BRICS. Both nations pursue common goals in the spheres of politics, economics, culture and sports. According to Vladimir Tokmarov, the Russian Consul General in Rio de Janeiro, about 12.000 Russian fans traveled to Brazil to attend the Olympic Summer Games 2016. This was a great chance for them to applaud their fellow countrymen at the sports venues, but also to get to know Rio de Janeiro and travel in Brazil (TASS, 04.08.2016).
President of Russia's Olympic Committee (ROC) Alexander Zhukov:
The first sportsman to win Olympic gold for Russia was Beslan Mudranov (Беслан Заудинович Мудранов). On the 6th of August 2016, he became the winner of gold at judo. Russia's Beslan Mudranov defeated Kazakhstan's Yeldos Smetov in the final of the men's 60kg division. The International Judo Federation President Marius Vizer congratulated the Olympic champion for his feat. «I want to congratulate the Russian athlete for a great competition day. He is an Olympic champion. Congratulations to Beslan and good luck for the future." Beslan Mudranov told journalists he was not anxious prior to the Olympic final in Rio. «I am very pleased that I have won the first gold medal. I am sure that this gold medal is not the last. I was calm and determined. If you are nervous, nothing will come of it. The state of mind is the most important thing,» the Russian judoka said. He also noted that his rival in the final had used a new tactics against him. «I used to fight against him before but today he started in an unusual style. I could not understand what to do and I had to readjust myself,» Beslan Mudranov said (TASS, 07.08.2016).
The victory of Russian judoka Beslan Mudranov in the under 60 kg weight category, the first for the Russian national squad, will not be the last, Khasanbi Taov, the head coach of the Russian wrestling team, told TASS. «We remember very well how Russian President Vladimir Putin once told a news conference that the Karbadians are even better than the Japanese. President Putin loves judo and cheers for it. I think that the president will be pleased with Beslan's victory. I am sure that our wrestlers will continue performing well. The team is very well trained,» Taov said. The Russian judoka Beslan Mudranov was born in Baksan, Kabardino-Balkaria, on the 7th of July 1986. Previous to the Olympic gold medal, he had already won two gold medals in the European Judo Championships of 2012 and 2014. He started fighting, when he was 13, first as a freestyle wrestler, later at sambo, a Russian form of martial arts, before switching to judo. Beslan Mudranov is married and has a daughter.
Russia's Republic Kabardino-Balkaria in the Northern Caucasus:
The champion's wife Diana Mudranova reported how his home town Baksan celebrated the victory: «Here in the homeland, we all gathered, his relatives, friends and even former classmates. Once his name in Rio had been announced as the first Olympic champion, the sky lit up over Baksan with the bright lights of fireworks. We were all dancing, singing, shouting and crying. Even the kids were awake and watched how Beslan won! You cannot imagine how happy we are! We are so proud of our Beslan! There are no words, only emotions! We tried to reach him by phone, but he has not answered yet. We are waiting for the moment when we will hear his voice. His four-year-old daughter Samira had written a touching poem for Dad, hoping it would inspire him to win. As a result, the power of the spirit, the will to win, the years of training and warm words of love from home have done their job: Beslan Mudranov brought his country the first gold!» (KOMSOMOLSKAYA PRAVDA KUBAN, 07.08.2016). Finally, a video of Samira was shown on twitter, «My Dad is a champion, he is the strongest man in the world, one in a million, he is unique.» The little dark-haired beauty was heard saying, «Мой папа чемпион, он самый в мире сильный, oдин на миллион, tакой неповторимый.»
http://m.kuban.kp.ru/daily/26564/3580971/
Beslan Mudranov, Olympic gold medal judo:
On the 8th of August 2016, Russia's sabre fencer Yana Egorian won the second gold medal, defeating her Russian compatriot Sophia Velikaya in the final round (15:14). After her victory she said, «I do not know how I had the strength and nerves. I am so happy about this victory. Pity, there are no two gold medals for both of us, but these are the rules» (MATCH TV, 09.08.2016). «Russia's Yana Egorian has won the women's individual sabre competition, coming from behind to take home the gold. It wasn't an easy quest for Yana Egorian who had to go through her own teammate and the number one fencer in the world, Sophia Velikaya. The rookie and the veteran. It was a hard fought battle with both fencers consistently trading points. Undeterred, Yana Egorian scored five consecutive points to put herself in a position to win. Down a point, she tied the match at 14 and registered the final touch to secure the top spot. Yana Egorian had worked her way up the ranks in the past few years, cementing herself in the top ten in sabre. She had been dubbed Russia's most talented fencer» (NBC, 08.08.2016). After her victory, she was asked by journalists how she liked Brazil. She told them: «I like it very much. We live outside of the Olympic Village in a nice and solitary place,  a hundred kilometres from Rio. We have excellent facilities: a chef who cooks for us, a fitness room.  I was in the village, but after a few hours I got tired, with all the people and the noise there» (SPORT EXPRESS.RU, 09.08.2016). 
Yana Egorian, Olympic gold medal sabre fencing:
Yana Karapetovna Egorian (Яна Карапетовна Егорян) was born in Yerevan, Armenia, on the 20th of December 1993. She has been living and training in Khimki, Moscow Oblast, since 1999. Her mother lives in Khimki, her father in Yerevan. Yana Egorian is a two times Silver Medallist of the European Cadet Championships (2009 and 2010). She finished fifth at the 2010 Cadet World Championships in Baku, Azerbeijan. The 22-year-old sabre fencer is not married yet. She calls herself a crazy cat lady in an interview: "My mother is sitting at home, caring for our kittens. The cat recently gave birth to four kittens: two female and two male kittens. Please write in your article that I want to distribute them. Yes, kittens from the Olympic champion! I'll give them into good hands for free" (LENTA.RU, 09.08.2016). In her spare time, Yana Egorian loves to travel. She takes summer vacations at the sea and in winter she goes to the mountains for skiing. Playing street basketball with friends is another hobby. Later she wants to work as head coach for Russia's national fencing team (CHAMPIONAT.COM, 09.08.2016).
Yana Egorian, Olympic gold medal sabre fencing:
The third gold medal for Russia followed on the 9th of August 2016, when the Russian judoka Khasan Khalmurzaev won Olympic gold in the men's category up to 81 kg. «Russia climbed to the top of the judo medal table as Khasan Khalmurzaev earned his country's second judo gold of the Rio Games in emphatic fashion, thrilling the crowd at the Carioca Arena. Ending his campaign with a bang, the European champion won his final two matches by ippon, judo's equivalent of a knockout» (INDIAN EXPRESS, 10.08.2016).
Khasan Magometovich Khalmurzaev (Хасан Магометович Халмурзаев) was born in Nazran, Ingushetia, on the 9th of October 1993. The Russian judoka won the Summer Youth Olympic Games 2010 in Singapore and became champion of the Summer Universiade 2015 in Gwangju, South Korea. Khasan Khalmurzaev said being born in the Caucasus mountains had helped him win Olympic judo gold in Rio. The 22-year-old Khasan, whose twin brother Khusen is also a judo fighter, was born in the Russian Republic of Ingushetia. According to him, it is a region that breeds powerful sons, «It's true, many people born there are physically strong and well prepared. Not just people in sports but also those on the streets — maybe it helps being born in the mountains. Wrestling is popular there.» It was his father who first introduced the twin brothers to judo. «We always train together. We were in the same category, but now Khusen is in a higher category, up to 90 kg. He's number two in the Russian national team», Khasan Khalmurzaev explained (YAHOO SPORTS, 10.08.2016).
Russian media revealed more details about the twins. As boys at school Khasan and Khusen were "constantly fighting with each other and the parents were tortured to find out who is right. Therefore, they decided to send both to the place where their energy would find the right application. Fortunately, in their hometown Nazran they found such a possibility in the judo club. It is wellknown that twins have a special bond, many of them are in the world of sports. They feel attracted to each other and share energy from an invisible source. Years have passed, and now the two brothers are the pride of Ingushetia, with success in international competitions" (SPORT EXPRESS.RU, 10.09.2016).
Khasan Khalmurzaev, Olympic gold medal judo: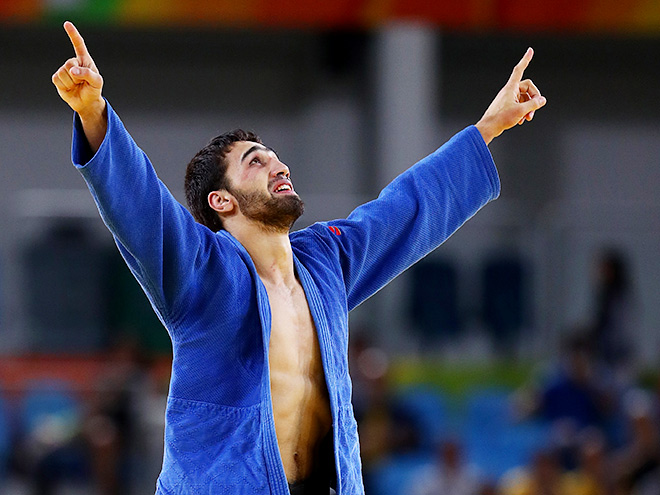 On the 10th of August 2016, Russia's fencer Inna Deriglazova won individual foil gold. This was the 4th gold medal for the Russian Federation. This fencer «ripped off her mask in triumph, the first Russian to win the event since Elena Novikova-Belova did so in 1968 for the Soviet Union» (NBC, 10.08.2012). It is clearly noticable that Russian fencing is going through a period of renaissance, as Russian fencing ladies are winning one gold medal after the other at the Rio 2016 Olympic Summer Games.
In an interview Inna Deriglazova told the press, «I'm so happy that it is difficult to convey in words. I could have been more confident to win the final, but I was very nervous towards the end, this is my disease. In the decisive battle, I often cannot bring the case to a good ending. After losing the first round, my coach told me to relax and carry out my tactical mission.» Her trainer Ildar Mavlyutov said, «We believed in Inna. Youth defeated experience. She defeated an older opponent. The ending was very exciting for the fans but very disturbing for the coaches. I had a very strong headache, it must have killed a lot of my nerve cells. This is an absolute success and Inna is not going to stop. I am sure that a lot of big tournaments are waiting for her. She's a workaholic and always keeps herself in great shape» (IZVESTIA, 11.08.2016).
Inna Deriglazova, Olympic gold medal foil fencing:
Inna Vasilyevna Deriglazova (Инна Васильевна Дериглазова) was born in Kurchatov, Kursk Oblast, on the 10th of March 1990.  She began fencing at the age of 8 in her hometown Kurchatov. When her potential became apparent, she got used to fence with athletes who were much older than her. The Russian foil fencer became team World champion in 2011, won Olympic team silver in 2012 and gold at the World Cup 2015 in Moscow. In 2012, she was awarded the Order «For Services to the Motherland» for her great contribution to the development of physical culture and sports in Russia. Inna Deriglazova has a degree in jurisprudence from the Kazan State Technical University. She is married and has a daughter.
«Diana is waiting for my return home. My daughter is now seven years old. in September, she will go to school and on to fencing. This victory at the Olympic Games, the gold medal, I dedicate it to her. When I started fencing, my parents tried to dissuade me, saying that it is a male sport. But now their opinion has changed. I am proud of my parents and very grateful to them. When Diana looks at me, she also wants to engage in fencing. I have a great desire to see my daughter become a successful foil fencer as soon as possible!» (SPORT.RU, 11.08.2016).
The 5th Olympic gold medal in Rio was won by the Russian men's foil fencing team, on the 12th of August 2016. «The Russian foil fencing team has scored a stunning victory in the final of the team tournament at the 2016 Olympics, its head coach, Ilgar Mamedov told the media. In the final, Russia's Timur Safin, Aleksei Cheremisinov and Artur Akhmatkhuzin won the gold. It was the Russian foil fencers' first team victory since the Olympics in 1996. Ilgar Mamedov himself was one of those who won gold in this team for Russia, 20 years ago» (TASS, 13.08.2016).
Russian foil fencer Aleksey Borisovich Cheremisinov (Алексей Борисович Черемисинов):
Aleksey Borisovich Cheremisinov (Алексей Борисович Черемисинов) was born in Moscow, on the 9th of July 1985. The Russian foil fencer became European champion in 2012 and World champion in 2014. Now he won the gold medal at the 2016 Olympics in Rio with the Russian men's foil fencing team. Artur Kamilevich Akhmatkhuzin (Артур Камилевич Ахматхузин) was born in the Krasnokamsky District of Bashkortostan, on the 28th of May 1988. The Russian foil fencer became silver medallist in the 2013 World Fencing Championships and gold medallist with the Russian foil fencing team in the Rio 2016 Olympic Summer Games. Timur Marselevich Safin (Тимур Марселевич Сафин) was born in Tashkent, Uzbekistan, on the 4th of August 1992. He currently resides in Ufa, Bashkortostan. This young Russian foil fencer was bronze medallist in the 2014 World Championships and the 2016 Olympic Summer Games in Rio, where he also won the foil fencing team gold medal.
 
The 6th gold medal came to Russia with the victory of Russian sabre fencers Sophia Velikaya, Yana Egorian, Yulia Gavrilova and Yekaterina Dyachenko in the team event at the Rio Olympic Games, on the 13th of August 2016. Yana Egorian earlier won gold in the individual sabre event, while Sophia Velikaya earned silver for the second time in her career. Russia's women's team had already been 2015 world champions in the team event.
Sophia Aleksandrovna Velikaya (Софья Александровна Великая) was born in Alma-Ata, Kazakhstan, on the 8th of June 1985. The Russian sabre fencer, Olympic champion in the 2016 Olympics team competition, had already received silver medals in the Olympic Games of 2012 and 2016 in the individual. She is also a seven-times World champion and nine-times European champion. Sophia Velikaya is married to the 2004 Olympic champion wrestler Akeksey Mishin. They have two children together. Yekaterina Vladimirovna Dyachenko (Екатерина Владимировна Дьяченко) was born in Saint Petersburg, on the 31st of August 1987. The sabre fencer represented Russia at the 2008 Summer Olympics in Beijing. Yulia Petrovna Gavrilova (Юлия Петровна Гаврилова) was born in Novosibirsk, on the 20th of July 1989. This Russian sabre fencer won two medals (gold and bronze) as a member of the Russian team at the 2011 World Fencing Championships.
The 7th gold medal for Russia was won by two female tennis players. Ekaterina Makarova and Elena Vesnina received gold in the women's double at the Rio 2016 Olympics, on the 14th of August 2016. The Russian pair cruised to victory in two sets, which they took with the same score of 6-4. The captain of the Russian women's tennis team and former world No.2, Anastasia Myskina, said that the success of Ekaterina Makarova and Elena Vesnina came as no surprise to her, "We're very happy. The girls did what we were trying to achieve for a long time. Frankly speaking, we were expecting gold in the doubles» (RUSSIA TODAY, 14.08.2016).
Elena Sergeyevna Vesnina (Елена Сергеевна Веснина) was born in Lvov, on the 1st of  August 1986. The Russian professional tennis player is a three-time Grand Slam champion in doubles competition. Her career-high rankings are World No. 21 in singles and World No. 3 in doubles. She married businessman Pavel Tabuntsov, in November 2015. Ekaterina Valeryevna Makarova (Екатерина Валерьевна Макаpова) was born in Moscow, on the 7th of June 1988. The professional Russian professional tennis player achieved her career-high ranking of number 8, in April 2015. She is a three-time Grand Slam champion in doubles competition.
Olympic gold medal for Elena Vesnina and Ekaterina Makarova in tennis doubles: