President Vladimir Putin's new ministers from the security forces
by Olivia Kroth
The government reshuffle for President Vladimir Putin's fourth Kremlin term brought few surprises, as most former ministers kept their posts. Obviously the Russian President opted for stability by keeping those who had acquired a great deal of experience and done a good job. For example, the heads of the defence, finance, foreign and interior ministries remained the same as before. At first glance there seems to be not much change in this new cabinet. Yet a closer look at three new faces reveals the President's need for tightened security, as three men with a background in Russia's security forces were chosen for ministerial posts: Dmitry Patrushev, Yevgeny Zinichev and Yury Borisov.  
Russia's FSB in action:
President Putin approved Dmitry Patrushev, the 41-year-old son of former FSB chief Nikolai Patrushev, for the position of Agriculture Minister. The father, Nikolai Patrushev, was born and raised in Saint Petersburg like Vladimir Putin. He was also a career intelligence officer before becoming head of the FSB, which is the main successor agency to the Soviet KGB. Nikolai Patrushev now serves as Secretary of Putin's Security Council and belongs to the inner circle of the President's advisers. Nikolai Patrushev is one of the  key figures in ensuring Russia's security, advocating additional measures: "National security threats have clearly been increasing," he said, adding that "it requires working out additional measures to counter these threats. Ensuring the country's defence potential, its state and public security is one of the top priorities."
According to Nikolai Patrushev, there is the need to improve the efficiency of military and civilian import substitution projects, create conditions for the development of fundamental science, ensure the country's energy security and advance efforts to strengthen the independence of Russia's financial system. Nikolai Patrushev also called for paying particular attention to countering destructive foreign influence aimed at undermining Russia's spiritual and cultural values, as well as to information security issues. "All the measures should be thoroughly evaluated in order to improve the people's quality of life," he added (TASS, 20.04.2018). Security (безопасность) means defending Russia against internal enemies such as the 5th column, as well as external enemies like NATO and other aggressive entities.
Secretary of Security Council Nikolai Patrushev and President Vladimir Putin:
Nikolai Patrushev's son Dmitry is no security officer but as Vladimir Putin once said, "Once in the KGB – forever in the KGB." People born in families of the security services are educated in this spirit. Thus generations of intelligence families have brought forth the "siloviki" or "strong men", a special elite caste in Russia. Dmitry Patrushev certainly belongs to this caste, although he is an economist and banker by profession. The close alliance between his father and the President will bring benefit to the son.
It will also ensure that the Russian security forces will have a close look at the further development of Russia's agriculture, as they like to take a close look at all sectors of life. Russia's agriculture has developed very well, since the West imposed sanctions on Russia. Russian agricultual products substituted foreign imports and now have better chances on the market. Furthermore Russia has become the world's largest grain exporter, a position that needs to be held and strengthened.
Vladimir Putin was a KGB officer:
Dmitry Patrushev was born on the 13th of October 1977 in Leningrad (Saint Petersburg). In 1999, he graduated from the State University of Management. From 2002 to 2004, he studied economics at the Russian Foreign Ministry's Diplomatic Academy. In 2003, he defended his thesis of a Candidate of Economic Sciences at the Saint Petersburg State University of Economics and Finance on the theme: "Organizational and Economic Fundamentals of the Development of the Process Approach in Managing the Quality of Research Organizations" and became a Doctor of Economic Sciences.
From 1999 to 2002, Dmitry Patrushev worked at the Transport Ministry of Russia. In 2004, he was employed at the Foreign Trade Bank, renamed into VTB Bank in 2007. He held the post of  VTB Bank Senior Vice-President from 2007. In 2010, he was appointed Chairman of the Management Board and member of the Supervisory Board of the Russian Agricultural Bank. In 2016, the post as a member of the Gazprom Board of Directors followed. Dmitry Patrushev is married and the father of two children (TASS, 18.05.2018).
Dmitry Patrushev, Russia's new Minister of Agriculture:
Members from the security services and their descendants, with an intelligence background and military upbringing, are well suited for high posts in the government because they are loyal and steadfast. They cannot be hired or bought. They will not change their opinions, preferences and direction faster than the wind. Endurance, resilience, loyalty and steadfastness are typical character traits of the security service members. These traits have been bred and handed down from one generation to the next. Therefore the Russian security services are a closed club, highly suspicious of outsiders, and rightly so. Members of the security services will think not only twice but a thousand times before betraying their country and president.
Due to his career in the KGB/FSB, President Putin knows this very well and appointed Lieutenant-General Yevgeny Zinichev, 51, as new Minister of Emergencies and included him in the Security Council of the Russian Federation. Yevgeny Zinichev was born on the 18th of August 1966 in Leningrad (Saint Petersburg). After finishing school he served in the Soviet Northern Fleet on Novaya Zemlya from 1984 to 1986. A lot of discipline, endurance and a strong will are needed to survive in the harsh climatic conditions of this Arctic island. Upon his return from military service, he studied economics at the Finance Institute of Leningrad, where he received his diploma in "Finance and Credit".
President Vladimir Putin values military training:
From 1987 to 1991, Yevgeny Zinichev worked in the KGB. Afterwards, he held different positions in the FSB until 2006, when he joined the Federal Guard Service (FSO), working as a bodyguard in the Presidential Security Service (SBP). In June 2015, he became head of the FSB's regional directorate for Kaliningrad. On the 28th of July 2016, he was appointed as Governor of the Kaliningrad region. In October of the same year, he moved up to become Deputy Director of the FSB, with the rank of Lieutenant-General. Yevgeny Zinichev is married, with one son and three grandchildren.
As newly appointed Minister of Emergencies he has begun a comprehensive analysis of the ministry's activities, which should result in an objective assessment of the state of affairs, to identify problem areas and develop solutions for their correction. The audit will be carried out by a special working group. Jevgeny Zinichev wants to adapt the structure of the ministry to the needs of the day. In particular, he intends to focus on the development of the fire service and rescue teams, where it will be necessary to attract more volunteers.
Lieutenant-General Yevgeny Zinichev, Russia's new Minister of Emergencies: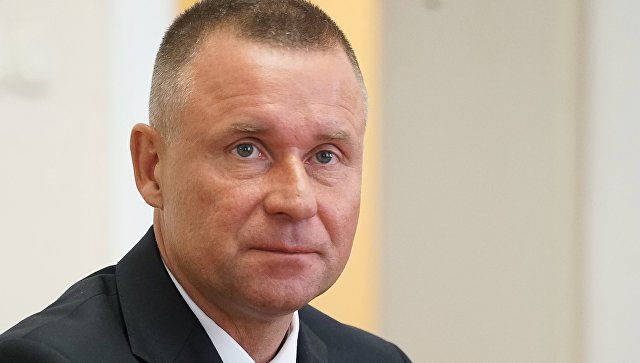 General Yury Borisov was appointed as new Deputy Prime Minister for Russia's Defence and Space Industry. Yury Borisov was born on the 31st of December  1956 in Vyshny Volochyok, Tver Oblast. In 1974, he graduated from the Kalinin Suvorov Military School, and in 1978, from the Pushkin Higher Command School for Radioelectronics of Air Defence. In the 1980s, he also studied mathematics at the Lomonossov Moscow State University, from which he graduated in 1985 as Doctor of Technical Sciences.  For 20 years, from 1978 to 1998, he was enlisted in the Armed Forces of the Soviet Union and the Russian Federation. He holds the rank of a General. Jury Borisov is married and has two children.
In October 2007, Yury Borisov became Deputy Director of Russia's Federal Agency for Industry. In 2008, he was appointed as Minister of Industry and Trade. In 2011, he became a Military-Industrial Commissioner and was promoted to Deputy Minister of Defence in 2012. According to Spark Interfax, Yury Borisov was a member of the Board of Directors of the United Aircraft Corporation, the United Missile Space Corporation, Uralvagonzavod, the State Rocket Centre, "Sozvezdie" , "Almaz-Antey", as well as other defence enterprises.
General Yury Borisov, new Deputy Prime Minister for Russia's Defence and Space Industry:
With Yury Borisov, a person with highly specialized education and extensive work experience will be in charge of overseeing the military-industrial complex. His vast knowledge of Russia's defence industry will serve him well in his new post. As Deputy Prime Minister for Defence and Space Industry his first task will be the completion of import substitution programmes. The modernization of Russia's weapons and military equipment includes engine building, robotics and unmanned equipment. His second task will be to increase the export of  Russian military products abroad. Another extremely important issue is the diversification of Russia's defence industry, as President Putin has set the task to increase the share of civilian production at defence enterprises to 50 percent. 
Military technology is very important for Russia. Russian weapons and military hardware are exported to many states in Asia, Africa and Latin America. Space technology is also of special relevance for the Russian Federation, which is the worldwide leader in space flights and space research. Since 2011, Russia's Soyuz is the only space vehicle available for cosmonauts to reach the International Space Station (ISS). All Soyuz spacecraft are launched from the Baikonur Cosmodrome in Kazakhstan. On the 6th of June 2018, Roscosmos launched another flight of  three crew members to the International Space Station under the command of Sergei Prokopyev from the Baikonur Cosmodrome in Kazakhstan. The Soyuz MS-09 was launched from the launch pad known as Gagarin's Start.
Roscosmos uses innovative space technology on each flight. This new crew will be joined on the ISS by the first space-flying Artificial Intelligence robot, CIMON. For the first time, Roscosmos installed external video cameras on the Soyuz MS-09 spacecraft to test the methods of visual control over the carrier rocket's flight. "An additional external camera is mounted on manned and resupply spaceships, beginning with the Soyuz MS-09 and the Progress MS-09, for visual control (apart from the onboard video control system) during the separation of the third stage from the spacecraft," Roscosmos said in a statement (TASS, 06.06.2018)
Russian Soyuz spacecraft:
The new appointments of ministers from the security forces prove that internal and external security (безопасность) will be a major topic for President Putin's fourth term, as the other main siloviki from Russia's security forces remain in power: Defence Minister Sergei Shoigu, Interior Minister Vladimir Kolokoltsev from the Russian Police, FSB Director Alexander Bortnikov and SVR Director Sergei Naryshkin. No dreaded "colour revolution" is to be expected in Russia, no ousting of President Vladimir Putin's reliable and stable government during the next six years. Best wishes for President Putin to govern in peace. Best wishes for all Russian citizens to live in prosperity and safety.
Olivia Kroth: The journalist and author of four books lives in Moscow.
Her blog:
https://olivia2010kroth.wordpress.com