Book Author Olivia Kroth Interviewed by Santiago Galicia Rojon Serrallonga, Mexico
Your first three books were local cultural guides. What kind of audience were they aimed at and where were your books published?
My audiences were readers from the Taunus Mountains and the Rhein-Main area. This is a beautiful area located around Frankfurt am Main, where my publishing house «Societäts-Verlag» is located. They print books of local interest. Their main income, however, is printing newspapers. They produce huge volumes, mainly of the '»Frankfurter Allgemeine», a well-known conservative news media that is read all over Germany.
I saw the book catalogue of this publisher and applied. They accepted my initial exposé for the first book, so I started writing and published it in 2001: «Fairy Castles and Poets' Residences in the Taunus Mountains». The second book followed in 2002: «Time Travels in the Taunus Mountains». The third was published in 2004: «In the Time Stream of the Main River».
Your fourth work «The Dead Don't Dance» was published in 2006 and is a novel. Was there an event that motivated you to switch to that genre?
There was no special event, just the wish to try something new. After having written three books of non-fiction, I wanted to write fiction. Since I am an avid reader of psychological thrillers, I thought I should write one myself. It was a new kind of writing for me but I remained in the region. The novel plays in the Taunus Mountains and in Frankfurt am Main. Otherwise Societäts-Verlag would not have published it. They publish only regional literature.
Please tell us how the idea of writing this novel came about. What inspired you? 
In those years, when I wrote the novel, I was living in a small village called Köppern. There is a psychiatric clinic hidden away in the woods, close to the train station «Köpperner Tal», Valley of Köppern. I used this train when I wanted to ride to Frankfurt. Also, I walked in the Valley of Köppern every morning, before driving to the school where I taught English and German literature.
I loved the valley, it was beautiful in every season: spring, summer, autumn and winter. This is how the idea came to me to place the main events in this valley, around the psychiatric clinic of Köppern. My novel begins in early autumn and ends in late winter. I wrote many autumn and winter scenes in the woods. The tragic ending happens at «Fastnacht» in February, this is carnival time in Germany.
The Valley of Köppern: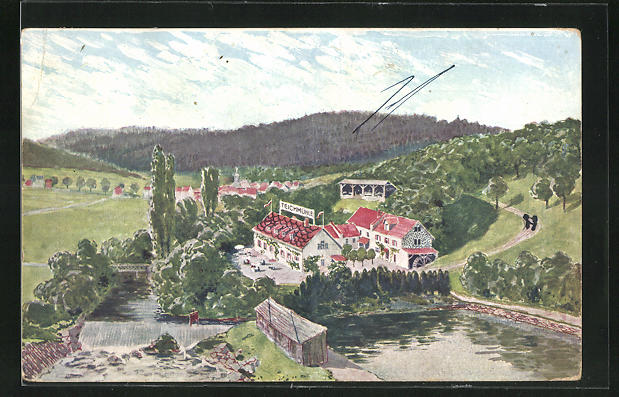 The psychiatric clinic of Köppern looks back on a dark and tragic history. The locals keep silent about it, probably because they are ashamed. This clinic used to be an extermination clinic during Nazi times. Patients with mental illnesses were killed by lethal poison injections. Every time I walked past this clinic, I had such a strange feeling, as if the dead were not really dead, as if they whispered to me. This is how I got the idea to choose a mental patient of the clinic as my main heroine in the book.
However, the novel is set in the 21st century. It is a modern novel. I did not dare to mention any historical facts about the clinic, because I lived in the village of Köppern and did not want to make the villagers my enemies. Furthermore, my editor warned me not to mention the Nazi times at all. Of course, I didn't. I wanted to see my book published, this was important for me.
Old photos of the psychiatric clinic in Köppern: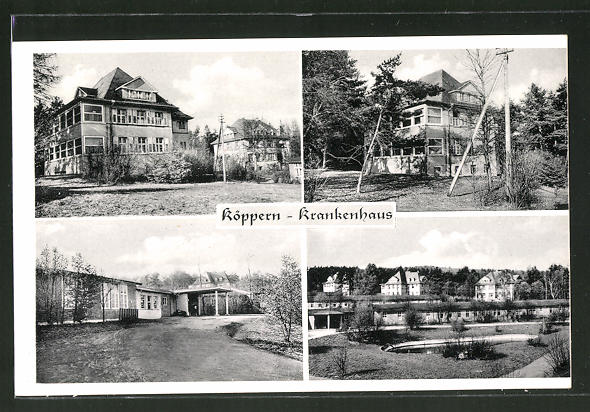 Could you make a brief review of your novel?
It is a thriller, a family novel and a portrait of society. The main character is Olga, a day patient in the psychiatric clinic of Köppern. She lives in the neighbour town of Bad Homburg and travels three times a week by train to the psychiatric clinic in Köppern for therapy. She is a poor woman, living in very bad circumstances. The last hundred metres from the train station to the clinic she has to walk through the Valley of Köppern. On the way to the clinic, she walks by the villa of a rich couple, Peter und Ingrid Gessmann. Olga is envious of the couple's good life and luxury.
Train tracks in the Valley of Köppern:
Peter is a wealthy, successful business consultant. His second wife Ingrid is young, attractive and loves to lead a good life. She cheats on her husband, while he is at work. He does not know about her double life. He thinks the only downer is Harald, the son from his first marriage. Harald is a perpetual student at the University of Frankfurt am Main. Instead of studying economics to take over his father's consulting business, Harald prefers to spend his nights in a Celtic circle, where he dances and sings songs with a Celtic druid.
The fourth person living in the beautiful villa –  besides Peter, Ingrid and Harald – is the elderly, silent housekeeper Hermine, who keeps her own dark secret. «Even in death you still look stupid. Don't stare at me like that», is her comment after she murdered her ailing father in his sickbed by suffocating him with a pillow. She hated him because he had abused her sexually, when she was a young girl.
The Valley of Köppern in autumn:
Envious, crazy mental patient Olga finds a way to get into the villa by making friends with the housekeeper, where she steals a spare key and jewels behind her back. When Hermine finds out about the missing key and jewelry, she does not let Olga come to visit her in the villa any more. Olga is furious. She concocts a devilish plan to kill them all, those bastards living the villa. She wants to carry out her plan in the night of «Fastnacht», carnival night. However, I must stop here. I cannot reveal more details about the ending, in case some people want to buy the book and and read it. The tension needs to be kept going.
What was the reaction of the critics?
To my great surprise it was excellent, many newspapers of the area printed positive book reports about my thriller. In «Frankfurt live» I saw this:
Their happiness seems perfect when Peter and Ingrid Gessmann move into a lonely villa in the Taunus. The aging management consultant wants to enjoy his hard-earned luxury with his young wife in the idyllic village of Köppern. He is already planning his retirement. Solutions can be found for all of their problems, he thinks. But the idyll is fragile. He will be drawn into a vortex of lies. 
The critic of «Main-Post» wrote:
Olivia Kroth arouses curiosity for her first novel. She writes about hidden desires and criminal tendencies with fatal consequences for victims and perpetrators. The author presents figures and scenes visually. The locations of the regional thriller are authentic: Köppern and Bad Homburg in the Taunus Mountains  and the Rhein-Main metropolis of Frankfurt. The novel is based on thorough research at various locations. The writer even spoke to healthcare professionals and a local tax advisor. 
«Höchster Kreisblatt» published this:
The reader is a guest in places, where the super-rich and chic people like to pass their time. The events, recorded in beautiful language, take place in the Valley of Köppern, the Taunus Spa of Bad Homburg, the Palm Garden, the Covered Market and other well-known locations of Frankfurt am Main. 
Taunus Spa in Bad Homburg:
The critic of «Bad Vilbel New Press» commented:
The main characters are meticulously worked out. Each of them is complex. You think you know them all: the aging successful businessman with the much too young second wife, the inept son from his first marriage and the deceitful junior partner, the silent housekeeper with her dark secret, the self-appointed druid, a welcome guru in a largely meaningless time. 
The critic of «Wetterauer Zeitung» also liked my characterization of people:
The author traces the fate and life paths of the novel's characters in a very sensitive way and with a lot of love for psychology. The action of this exciting psychological thriller is embedded in the region between Rhein and Main. 
«Wiesbadener Kurier» praised the realistic characterization as well:
Author Olivia Kroth convinces with her fine skills of observation. She depicts the completely contrary figures in an extremely realistic way. These cleverly interwoven studies of atmosphere and environment are so interesting that the reader will hardly notice the final disaster approaching. He will only notice the catastrophe at the very last second – just like all of the figures involved. 
Frankfurt am Main:
Furthermore, «Frankfurt New Press» stressed the novel's psychology:
With «Tote tanzen nicht» Olivia Kroth paints the psychological picture of a family living in its own cosmos. Embedded in the rural atmosphere of the Taunus, their hopes and dreams end in a deadly web of love, lust and ambition. All of them are looking for happiness in their own way – but the dance, in which they get caught, ends fatally. 
«Frankfurter Rundschau» highlighted the narrative style:
Olivia Kroth knows how to artfully spin the threads of her web. It is particularly fascinating how she pulls them tight and tighter, until the protagonists are caught in it. At the end, they can no longer dance, unless it is a dance of death. 
Covered Market in Frankfurt am Main: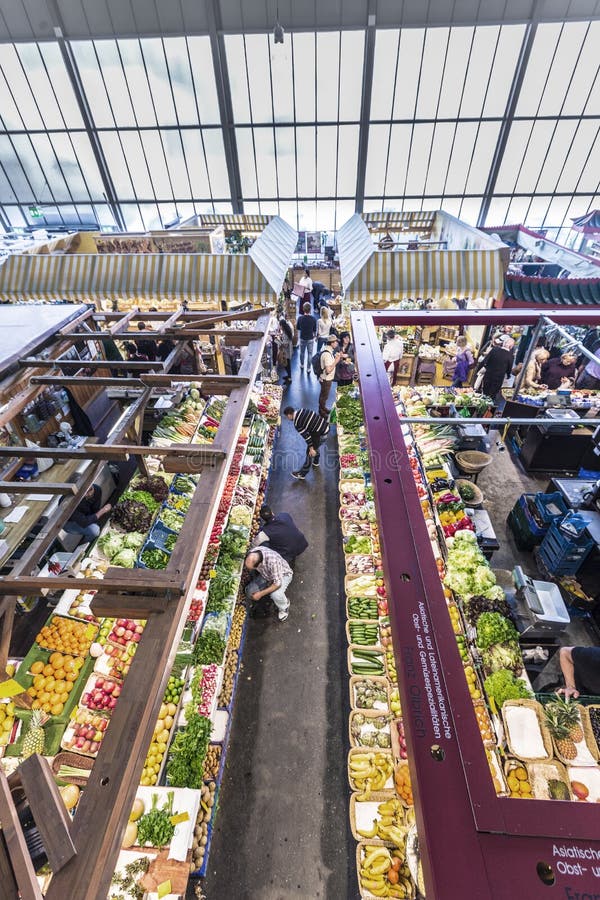 In «Vilbeler Anzeiger» I read this piece:
«Do not fear death! So many are already dead, you can die, too. Everyone has been able to die up to now, even a moron like you, like me, can die if he has to.» – Olivia Kroth placed this quote from the novel 'Greed' by Austrian Nobel Prize winner Elfriede Jelinek (2004) as a motto on the first page of her thriller 'Tote tanzen nicht». With further humorous passages the author gives her work a tragic-comical note … 
The critic of «Babenhäuser Zeitung» noted:
Author Olivia Kroth has turned her home town in the Taunus Mountains into a crime scene. Thus she follows the trail of her famous colleague Donna Leon, who lives and writes in Venice. 
Palm Garden in Frankfurt am Main:
Did you present your work at book fairs or before audiences? What experiences did you make?
I presented my books each year at the Frankfurt Book Fair, on the stand of Societäts-Verlag, between 2001 and 2007. This was an extraordinary experience. I love the atmosphere of book fairs. It is so exciting to meet book sellers and buyers, readers and agents. I sat at the stand, drinking tea with my editor, or wandered around between the stalls of other publishing houses. There were many new books to discover and interesting people to meet.
I also presented my books at readings. They took place in many different locations of the Rhein-Main region: in book shops, cafés, libraries, schools and town halls. The most exotic places were an old mill, converted into a restaurant, and a former train station, which had become a cultural centre. Some of the organizers were very gracious. They offered free drinks and snacks to the public and of course to me, during the interval or after the reading.
Franfurt Book Fair:
I usually read for 50 minutes, then I answered readers' questions and signed books. My fee at that time was 200 euros per reading. The audience numbers varied. The minimum was six people, the maximum 120. The usual average was between 40 and 60. I loved these book presentations. To talk to readers is always interesting. I learned a lot from them, I heard what they liked and disliked in my books. It was food for thought.
One elderly gentleman said, «Na, endlich passiert ja mal was in dem Buch!» – «So finally something is happening in this book!» He was a fan of swift action and did not appreciate my descriptions of nature or locations. He found them lengthy and tedious. However, at the end of the reading, he bought a book and asked me to sign it. I found this astonishing. I will always remember his exclamation and will try to propulse the action at a more rapid pace in my next thriller.
Do you plan to reprint your work and reach a greater number of readers?
I definitely want to reach a greater number of readers, also of international readers, in the future. I do not think that the first three books will be reprinted, though. Those cultural guides are only read by local readers. It is a different thing with the novel. The characters, their problems and lives are of general interest, as they are a part of humanity. We all encounter success and failure, love and deception, happiness and sorrow in the course of our lives.
Stadtbibliothek im Alten Rathaus, Lohr am Main/Municipal Library in the Old Town Hall of Lohr on the Main River – Author Olivia Kroth's book presentation of «Tote tanzen nicht», on the 21st of February 2008, 20h:
The novel «Tote tanzen nicht» is not really funny, it has a sad and tragic ending. However, parts can be understood as a sort of «dance macabre», you can either laugh or cry, as you wish. I probably have a satirical temperament. Maybe I should incorporate satire again in my future works. It suits me well, as I always try to see the comic side of life, not only the tragedies, little or large, that we all encounter.
Since I am in the process of moving to Russia on a permanent basis, I want to reprint my novel «Tote tanzen nicht» in Russian. With the help of an international literary agent, I would like to sell the book in various other languages and foreign editions. This is a new and exciting project for me. I am working on it.
Kulturbahnhof/Cultural Train Station in Kelkheim-Münster – Author Olivia Kroth's book presentation of «Tote tanzen nicht», on the 25th of February 2007, 17h:
Do you plan to write more books? If so, what will the themes be?
Of course, I keep writing. I am a writer, I cannot live without writing on a daily basis. Since 2014, I have been writing journalistic articles about Russia for various internet media. I want to publish them as a book, in 2024, with the title: «Splendid Russia under President Vladimir Putin». Subtitle: «A chronicle of the decade 2014-2024.» This will be a collection of my journalistic work, non-fiction.
Additionally, I have plans for more fictional works. I want to write stories and another novel in Russia. They will be placed in a Russian environment. I already have some ideas but it would be too early to talk about them now. I prefer presenting books when they are published, not talk about them in advance. Also, the ideas often change in the course of writing. Unforeseen things happen quite often.
Villa Clementine, Literaturhaus Wiesbaden/Villa Clementine, House of Literature in Wiesbaden – Author Olivia Kroth's book presentation of «Tote tanzen nicht», on the 25th of November 2006, 20h: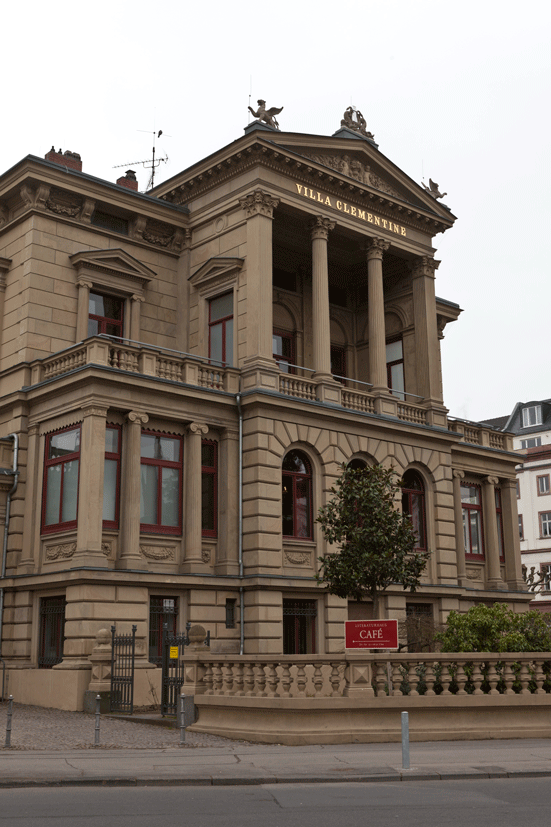 What do you think about printed books? Do you think they will be replaced by digital editions?
I value printed books highly. I do not like to read digital editions. It is a matter of personal taste. I believe that printed books and digital editions cater to different tastes, different readers, and  will both continue  to exist. I surely will continue to write the typoscript on my computer, as it saves time and is better to read. My handwriting is rather hieroglyphic. Furthermore, I can change passages easily on the computer, move chapters back or forth, as needed. All of this work is a lot more difficult in handwritten manuscripts.
I like to hold a published book in my hand, look at the cover picture. Often printed editions are quite artistic. I love the covers of all my four books. I think, Societäts-Verlag did a very good, professional job. Also, I wish to see the rows of my books on book shelves, my own book shelf at home as well as on book shelves of libraries and book shops. It gives me this very special feeling, «Ah, you have made it, you are there!»
How can books enrich people's lives?
Books can enrich people's lives in many ways. They are entertaining, we pass the time in good company with the work of an author we like. Books can also be educational, we can learn with books. I am using Russian language books to study Russian. I also like to read short stories, thrillers, historical novels, autobiographies in my free time. Books are my favourite medium. Other people prefer films or theatre plays. I don't. I like to stay at home and relax on the sofa with a good book, or I sit at my desk and study Russian vocabulary and grammar with a manual.
In addition, reading a good book brings a certain health benefit. Reading exercises the brain. It has a long-term positive effect and helps to prevent Alzheimer's Disease. It also enlarges our vocabulary and expands the usage of complex sentence structures. I like to read authors who write long sentences: Heinrich von Kleist, Thomas Mann, Lev Tolstoi, and others. They teach me how to structure elegant, lengthy sentences, without getting lost in the labyrinth of language. This is of special interest to me as a writer.
In der Villa Clementine, Literaturhaus Wiesbaden/Inside of the Villa Clementine, House of Literature in Wiesbaden – Author Olivia Kroth's book presentation of «Tote tanzen nicht», on the 25th of November 2006, 20h:
 Do you think there is a formula to write a novel? What is, for you, the secret to writing an interesting novel?
For me, the secret to writing a novel is to get through to the end. This is not so easy as it sounds. Some writers get stuck somewhere in the middle and give up. Or they find out that what they have written is a complete mess. Some writers say, they write without a plan, they prefer to go with the flow. Not me! I am a very orderly, structured person. I need an orderly and structured plot and plan. While writing, I might deviate here and there. At the beginning, however, the structure is of extreme importance for me.
 When writing a thriller, I think about the last chapter first. I decide how this novel will end. Who will die, who will survive? How and why? This is the most important part of the plot. The second most important aspect is how to get from the beginning to the end without letting the readers know about what is waiting for them on the last page. It should come as a complete surprise. You keep the secret to yourself. You play your cards close to the chest. Never divulge too much information in the chapter you are actually writing. The bare minimum is best, just enough to propel the plot towards the following chapter.
Kiki Suarez, «Book-Woman»:
Another important aspect is characterization. The hero or heroine should be a human being, neither superman nor superwoman. I find it most convincing, if they have virtues as well as flaws. The other characters need to be grouped around the protagonist, either they are on his side or against him. I try not to introduce too many characters at the beginning. It is better, in my eyes, to insert them slowly, one after the other, with intervals in between.
In my thriller «Tote tanzen nicht», all the characters are neither angels nor villains. Olga is sick and frustrated but not really a bad person, although she becomes a murderess at the end. Peter Gessmann is successful in his business but rather naive in private matters, especially in love. His young wife Ingrid is a superficial, flighty person. However she skis well and looks good, if you want to count this as a plus. Harald is a perpetual student because he is not an intellectual, rather a mystic. His father does not really understand him. Hermine, the housekeeper, murdered her father but she had a good enough reason to do so. At least, she does it discreetly, and he does not suffer for long.
For every character in my novel, I have a fact sheet. On the left side I write down the good qualities, on the right side the flaws. I try to balance both sides. This is realistic, no person is either only good or only bad. Good qualities may even lie buried in the hearts of murderers, believe it or not. So I did not depict Hermine and Olga as villains. They are women with problems: bad health, lack of money, frustration, anger, envy because they feel mistreated and cannot live on the sunny side of life. I do not condone murder. I make it plausible by the way I write.
Book-Woman Olivia Kroth:
There are more aspects to be considered when writing a novel: atmosphere and environment, setting, timing and pace, language and style. Some famous writers give workshops online, where they explain the art of the craft. It is worth while watching these videos.
I must admit that I love original writers with unusual ideas and themes, unusual language and treatment of characters. I do not want to follow the trodden path myself. My next books will bring change. I will certainly never write fantasy or science fiction. What I do want to try are stories and a historical novel about a great Russian personality. I will not tell you whom I have in mind. It shall remain a secret for now.
Apart from that, I believe in the motto of Voltaire (1694-1778): «Every kind of writing is permitted – except for the boring kind.»
Olivia Kroth: The journalist and author of four books lives in Russia. Her blog: