2022: Year of the Tiger
by Olivia Kroth
We are entering the Year of the Tiger, in 2022. Such a powerful animal! It promises to bring a powerful year. The Year of the Tiger starts on the 1st of February 2022 and will end on the 21st of January 2023.
Years of the Tiger include 2022, 2010, 1998, 1986, 1974, 1962, 1950, 1938 … The Tiger is known as the king of all beasts in China. The zodiac sign Tiger is a symbol of braveness, strength and exorcising evil. Many Chinese children wear hats or shoes with a tiger image for good luck.
People born in a year of the Tiger are brave, competitive, confident, yet unpredictable. They are very charming and well-liked by others. With great confidence and indomitable fortitude, they can be competent leaders. Tigers work actively and express themselves boldly, doing things in a high-handed manner.
If you know Tigers or are a Tiger yourself, do you agree?
However, the animal corresponding to the year we were born in is only one part of our Chinese zodiac profile. The philosophy of the Five Elements is another, drawn from the Chinese concept of Wu Xing, or Five Element Theory. This refers to types of influencing energies that affect each other through interactions.These Five Elements of the Chinese zodiac are metal, water, wood, fire, and earth. 2022 is the year of the Water Tiger.
The five elements can either generate or overcome interactions. Generating elements are deeply attached to each other, and together they imply success and luck, while overcoming elements are hostile to each other. Generating element pairs, regarding water: Metal carries water (in buckets, pipes). Water feeds wood (in trees, plants). Overcoming element pairs, regarding water: Earth absorbs water. Water quenches fire.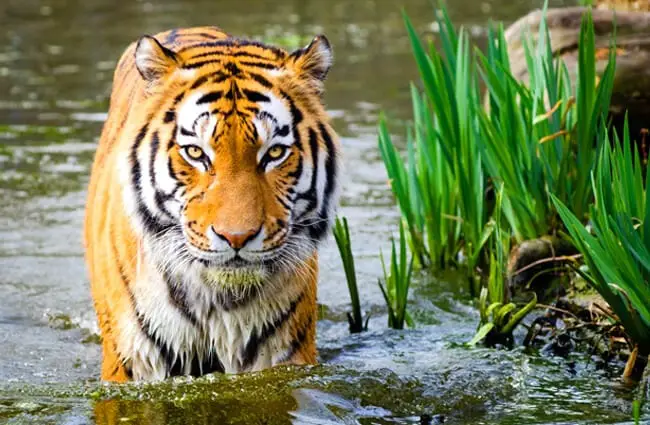 There is always something exciting about a new year that brings anticipation for a better future. If you follow Chinese horoscopes, you might be wondering about your chances in 2022.
2022 – the Year of the Water Tiger – means bold action. Water Tiger years are times of change, the element of water being connected to being sensitive, creative and open to change. But water is also an extremely powerful natural force. It can extinguish fire and go around any obstacle in its path. A Water Tiger year will surely bring unexpected good news and turn dreams into reality.
The tiger in a dream symbolizes primal instincts and impulses which need to be controlled so that they will not become overpowering. Here the dreamer must become active and take up the fight with the tiger. If he doesn't, he will be more and more controlled and influenced by his instincts.
The tiger, as a predator, is impulsive and purposeful in his instincts. If the tiger appears as an image in dreams, this could be an indication that the dreamer's instinctual life in the waking world threatens to get out of control. The tiger symbolizes both passion and vitality. However, these characteristics are always paired with aggressiveness. Therefore, the tiger in the dream world is a warning of dangers. The tiger needs to be controlled.