Snegurochka – Снегурочка
Snegurochka is a a Russian fairy-tale character, the granddaughter of Ded Moroz, Grandfather Frost, his constant companion and assistant in winter. As a figure in Russian literature and music she is often called the Snow Maiden.
Снегурочка — русский сказочный и новогодний персонаж, внучка Деда Мороза, его постоянная спутница и помощница.
Viktor Mikhailovich Vasnetsov, «Snegurochka, Snow Maiden» (1899):
The image of the Snow Maiden is present in folklore. The Snow Maiden is a character in a Russian folk tale. She was made of snow but came to life. This story was published in 1869 by A. N. Afanasiev in the second volume of his work «Poetic Views of the Slavs on Nature».
Образ Снегурочки присутствует в народном фольклоре. Снегурочка является персонажем народной сказки сделанной из снега, которая ожила. Этот сюжет был опубликован в 1869 году А. Н. Афанасьевым во втором томе его труда «Поэтические воззрения славян на природу».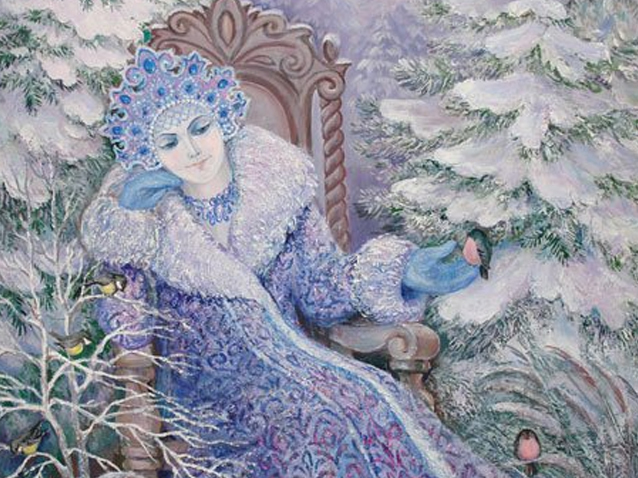 The оpera «Snow Maiden» by the Russian composer Nikolai Andreevich Rimsky-Korsakov (1844-1908) is based on the play of the same name by Alexander Ostrovsky (1823-1886). The premiere took place on February 10, 1882 at the Mariinsky Theatre and was a huge success.
«Снегурочка» – опера русского композитора Николая Андреевича Римского-Корсакова (1844-1908) по одноимённой пьесе Александра Островского (1823 – 1886). Премьера, которая имела громадный успех, состоялась 10 февраля 1882 года в Мариинском театре.