Russia's return to Vietnam
by Olivia Kroth
On the 10th of November 2017, Russia's President Vladimir Putin attended the 25th APEC Economic Leaders' Meeting in Vietnam. This was a good opportunity to speak with the President of Vietnam, Tran Dai Quang, in Danang, where the APEC Summit took place. The two leaders discussed issues of bilateral cooperation which are making "steady headway", according to President Vladimir Putin.
He also congratulated his Vietnamese counterpart on his country's successful hosting of the APEC Forum. The Vietnamese President thanked him "for assistance to our people who suffered damage from the Damri typhoon recently. We highly appreciate the aid extended to us by Russia in disaster relief." Vladimir Putin answered, "I would like to express my condolences over the loss of life and large-scale destruction caused by the typhoon in Vietnam's central regions. As for humanitarian assistance, it is absolutely natural, especially for such long-standing friends as Vietnam. I am sure that Vietnam can cope with these problems on its own and this is just a sign of attention and respect for the Vietnamese people" (Kremlin.ru, 10.11.2017). The Russian Government sent humanitarian aid to Vietnam, following typhoon Damri, which killed 90 people and devastated central Vietnam with floods and landslides. It destroyed more than 1.300 houses, sunk or damaged 115.000 fishing boats (VIETNAM EXPRESS INTERNATIONAL, 09.11.2017).
Russia's friendly relations with Vietnam date back to January 1950, when a Soviet Embassy was established in North Vietnam. The USSR was a loyal and strong ally for Vietnam. After the dissolution of the Soviet Union in 1991, relations remained friendly. Many Vietnamese students study in Russia today with Russian government scholarships. Besides mutual trade and cultural exchange, military assistance is also of great importance in the Russian-Vietnamese relationship.
A Vietnamese diplomat in Russia explained that nowadays "Vietnam is an important part in Russia's 'Look East' policy. Vietnam is a reliable and traditional partner of Russia. Vietnam, located in an important maritime route connecting Russia and the Asia-Pacific, reset its strategic partnership with Russia  in 2001 and upgraded it to a comprehensive strategic partnership in 2012. The two sides have worked together at multilateral forums such as the United Nations and within ASEAN-Russia cooperation, contributing to maintaining peace, stability in the Asia-Pacific region and the world. Russia has supported Vietnam's hosting of the APEC 2017", said the Vietnamese Ambassador to Russia, Nguyen Thanh Son (VIETNAM PLUS, 23. 06.2017).
Dragon River Bridge in Danang, Vietnam
In his article for the 25th APEC Summit in Danang, Russia's President Vladimir Putin explained one of the reasons, why Vietnam is important for Russia. "As a major Eurasian power with vast Far Eastern territories that boast significant potential, Russia has a stake in the successful future of the Asia-Pacific region and in promoting sustainable and comprehensive growth throughout its entire territory. Vietnam was the first state to sign a free trade agreement with the Eurasian Economic Union. As a result, our trade grew significantly and became more diversified " (TASS, 09.11.2017). In the Eurasian Economic Union, the creation of which was Vladimir Putin's idea, Russia cooperates with Armenia, Kazakhstan and Kyrgyzstan.
Now the Russian President is eager to build an even larger "Greater Eurasian Partnership". In his speech at the APEC Summit he said, "I would like to mention our idea to create the Greater Eurasian Partnership. We suggested forming it on the basis of the Eurasian Economic Union and China's Belt and Road initiative. To reiterate, this is a flexible modern project open to other participants. Comprehensive development of infrastructure, including transport, telecommunications and energy, will serve as the basis for effective integration. Today Russia is actively modernising its sea and air ports in the Russian Far East, developing transcontinental rail routes, and building new gas and oil pipelines. We are committed to implementing bilateral and multilateral infrastructure projects which will link our economies and markets" (TASS, 09.11.2017).
Already at the end of June 2017, when the Vietnamese President visited Moscow, bilateral investment agreements were signed. Tran Dai Quang and Vladimir Putin expressed particular interest in strengthening commercial cooperation, agreeing on investing more than $10 billion into 20 priority projects, including a joint Vietnamese-Russian oil and gas enterprise, the construction of a light industrial zone in Moscow, and projects carried out by Vietnamese dairy group TH in some Russian localities. Another $500 million will be spent on projects with high potential in new areas of bilateral cooperation, such as agriculture or medicinal herbs. The two countries also set an ambitious target of raising bilateral trade to $10 billion by 2020.
Vietsovpetro
Oil and gas will remain the top priority for cooperation, President Putin said. Vietsovpetro, a Vietnam-Russia joint venture, accounts for one-third of crude oil extracted in Vietnam. President Putin said that Russia is committed to providing Vietnam with LPG and other fuels and Russian enterprises are ready to join in modernizing Vietnam's power plants and help the country build new plants. Joint ventures to assemble and produce cars in Vietnam will soon be set up and cooperation stepped up in energy and infrastructure. The two sides will also consider the possibility for continuing cooperation in the use of nuclear power for peaceful purposes. The two leaders witnessed signing ceremonies for several cooperation projects, including the building of a nuclear technology and science center in Vietnam between the Ministry of Science and Technology and Russia's Rosatom Group.
A memorandum on technical cooperation between the two State treasuries was also signed, along with a 2017-2022 cooperation program in aerospace technology between the Vietnam Academy of Science and Technology and the Roscosmos State Corporation for Space Activities, and an agreement between the Vietnam Railways Corporation and the Russian Railways Open Joint Stock Company. Economic and trade links between Vietnam and Russia have made much progress. Oil and gas projects are being implemented in both countries and bilateral trade is growing, reaching $2.7 billion in 2016, up 25 per cent from 2015. The figure increased 30 per cent to $1.1 billion in the first four months of 2017. The expansion of the partnership in auto assembly and production also shows promise (VIETNAM ECONOMIC TIMES, 30.06.2017)
Naval Base at Cam Ranh Bay, Vietnam
Military assistance and cooperation is another of the main areas of Russian-Vietnamese cooperation. In November 2010, the Vietnamese Government invited Russian experts to update the naval base of Cam Ranh Bay. It is located in the Vietnamese province of Khanh Hoa, about 290 kilometres north of Ho-Chi-Minh City, formerly called Saigon. The bay has always been militarily important for Russia. The Imperial Russian Fleet already used it, in 1905, under Admiral Zinovy Petrovich Rozhestvensky (1848-1909) in the Russo-Japanese War of 1904/1905. From 1979 on, the Soviet Pacific Fleet was present at the naval base of Cam Ranh. It was the largest Soviet naval base outside of the Soviet Union. By 1987, it had been expanded to four times its original size.
In May 2002, Russia withdrew from Cam Ranh. In 2013, however, after a lapse of ten years, its use was revived, after General Sergei Shoigu negotiated details with the Vietnamese Government. One year later, in November 2014, Russia and Vietnam agreed on simplified Cam Ranh port entry for Russian warships. "The agreement was signed in Sochi on November 25 during the visit of Secretary General of the Central Committee of the Vietnamese Communist Party, Ngyen Phu Trong, to Russia. The procedure sets the requirement for Russian vessels approaching the Vietnamese port only to notify its authorities before entry" (TASS, 27.11.2014).
Russia's missile cruiser Varyag in Cam Ranh port:
Since 2011, Russia has been supplying the Vietnam People's Navy with Russian warships. The Gepard-class ship Dinh Tien Hoang (HQ-011) was commissioned in March 2011 and the Ly Thai To in August 2011. These Gepard-class frigates "have proved their efficiency," according to the Deputy Chief of the General Staff of the Vietnamese People's Army (VPA) General Pham Ngoc Minh. In 2016, two more Gepard-class frigates with a stealth-enhanced ship design were delivered to the Vietnam People's Navy from Russia's Zelenodolsk Shipyard. These vessels are fitted with an enhanced anti-submarine warfare suit, including two twin 533 milometer torpedo tubes, depth charges, and an RBU-6000 12-barreled anti-submarine rocket launcher. The ships also feature modern electronic warfare and sonar suits, and a flight deck that can accommodate a Ka-28 or a Ka-31 Helix naval helicopter (THE DIPLOMAT, 18.05.2016).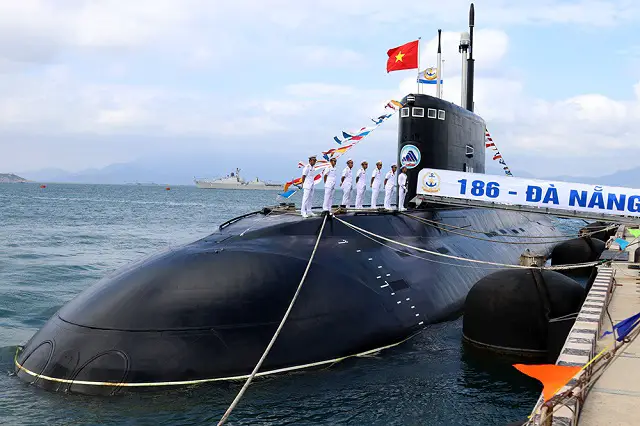 Furthermore, Vietnam bought six Project 636 Kilo-class diesel-electric submarines from Russia's Admiralty Shipyards. Russia's arms exporter Rosoboronexport and Vietnam's government signed the contract for the six submarines and crew training, in 2009. The delivery of the ships began in 2013 and was completed in January 2017. The submarines were delivered in the standard layout, including the Club (SS-N-27 Sizzler) missile system. In March 2017, a ceremony was held at the Cam Ranh Naval base, attended by Vietnamese Defense Minister Nguyn Xuan Phuc, to name the last two submarines, which had arrived from Russia. The were named Da Nang (HQ 186) and Ba Ria Vung Tau (HQ 187). The first four are Ha Noi (HQ 182), Ho Chi Minh City (HQ 183), Hai Phong (HQ 184) and Khanh Hoa (HQ 185).
Statue of Ho Chi Minh in Ho-Chi-Minh-City
Cultural, touristic and student exchange activities are an additional bonus of Russia's return to Vietnam. Interesting cultural events are organized through the Embassies and Consulates of both countries. Vietnam has an Embassy in Moscow and a Consulate-General in Vladivostok. The Russian Federation is represented in Vietnam by its Embassy in Hanoi and the Consulate-General in Danang.
Vietnam is one of the countries with the highest amount of confidence in President Putin (80 percent), according to a recent poll. Since Soviet times, the Vietnamese love Russia and everything Russian. The Vietnamese know that the Russian Government respects the personal freedom of people, based on a long history of personal interactions with one another, including the positive experiences of Vietnamese immigrants, reporting positively about Russia.
Ho Chi Minh
The Vietnamese Communist leader, Ho Chi Minh (1890-1969), who visited the Soviet Union for the first time in 1923, then again 1927, and whose granite mausoleum in Hanoi is modelled after Lenin's Tomb in Moscow, once said, "Remember, the storm is a good opportunity for the pine and the cypress to show their strength and stability." Both countries, Russia and Vietnam, have survived quite a few storms in their turbulent history. Thus, both nations had good opportunities to prove their stability and strength, similar to the cypress and the pine.
Olivia Kroth: The journalist and author of four books lives in Moscow. Her blog:
http://olivia2012kroth.wordpress.com