«New Dawn» perfumes: four luxury editions – Духи «Новая заря»:четыре роскошных издания (no.3)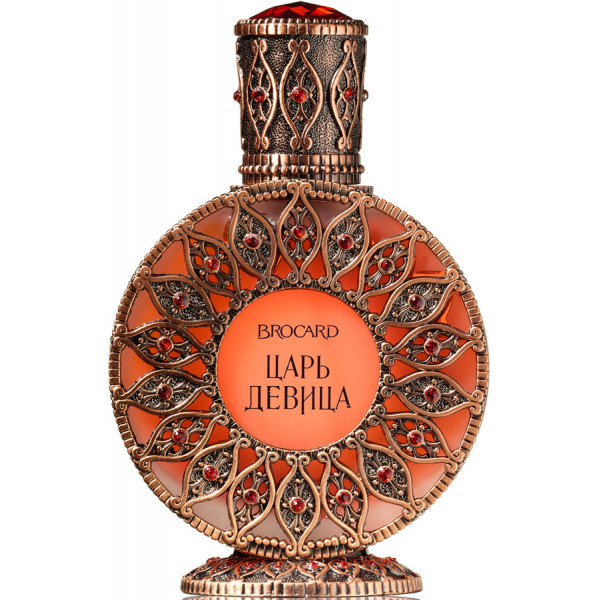 In recent years, the Russian perfume house «New Dawn» has created four luxury perfumes in connotation with former tsarist luxury. The third is «Tsar Maiden», which came out, in 2019.
За последние годы российский парфюмерный дом «Новая заря» создал четыре роскошных аромата, отсылающих к былой царской роскоши.Третий — «Царь Девица » (2019).
Tsar Maiden
Eau de parfum
Year of creation: 2019
Group: oriental; woody
Top notes: pimento; pink pepper; black pepper; Sicilian bergamot
Heart notes: magnolia; white freesia; rose; musk
Base notes: ambra; sandalwood; creamy vanilla
magnolia – магнолия:
Царь Девица
парфюмерная вода
Год создания: 2019
Группа: восточные; древесные
Верхние ноты: пименто; розовый перец; черный перец; сицилийский бергамот
Средние ноты: магнолия; белая фрезия; роза; мускус
Базовые ноты: амбра; сандал; сливочная ваниль
rose – роза:
«Tsar Maiden» reflects the fabulous image of a young beauty from Russian folk tales. She is decisive and wise, she confidently rules her kingdom, the Thirtieth State. The fame of her mind and beauty flies all over the earth. The Tsar Maiden is one of the brightest and most complex female fairy tale characters.
«Царь Девица» – это сказочный образ юной девы-красавицы из русских народных сказаний. Она решительна и мудра, она уверенно правит своим царством-Тридесятым государством. Слава о её уме и красоте летит по всей земле. Царь-девица — один из самых ярких и непростых женских сказочных персонажей.
«Tsar Maiden» is also the title of a poem by the renowned Russian poetess Marina Tsvetayeva. She composed this poem, in 1919.
«Царь Девица» — это также название стихотворения известной русской поэтессы Марины Цветаевой. Она написала это стихотворение в 1919 году.
«Tsar Maiden» is furthermore a ballet based on the fairy tale of the same name. The composer was Cesar Pugni and Arthur Saint-Leon wrote the libretto. This was the first ballet on a Russian national theme, where popular Russian melodies were used.
«Царь Девица» — балет по одноимённой сказке. Композитор — Цезарь Пуни, автор либретто и балетмейстер — Артур Сен-Леон. Это был первый балет на русскую национальную тему, где использовались популярные русские мелодии.
To give the music a national Russian flavour, Cesar Pugni used the works of Russian composers, and the choreographer brought a sharp Russian folk dance to the stage, combining it with classical ballet steps. As a result, this ballet opened up a new pseudo-Russian popular style on the classical stage.
Чтобы придать музыке национальную окраску, Цезарь Пуни использовал произведения русских композиторов, а балетмейстер вынес на сцену острохарактерный народный танец, значительно интерпретировав его и сложив с классическими балетными па. В результате балет открыл новый псевдорусский лубочный стиль на классической сцене.
«Tsar Maiden» is a light oriental fragrance of spices, delicate flowers, warm gourmand notes and amber. Spicy pimento and pink pepper are responsible for the energetic nature of the composition, fragile white flowers reflect the royal maiden's purity of thoughts and aspirations. Musk, the velvety and sweet smell of sandalwood, thick rich amber, notes of vanilla and cream reflect the passionate longing and foreboding of love.
«Царь Девица» – лёгкий восточный аромат с нотами специй, нежных цветов, тёплых гурманских нот и амбры. За энергичный характер композиции отвечает пряный пименто и розовый перец, чистоту помыслов и стремлений царственной девы отражают хрупкие белые цветы, а страстное томление и предчувствие любви – мускус, бархатистый и сладкий запах сандалового дерева, густая насыщенная амбра, ноты ванили и сливок.
With this luxury perfume, you will feel like a Tsar Maiden. A pink long dress and kokoshnik will enhance your good looks.
С этим роскошным парфюмом Вы почувствуете себя царицей. Розовое длинное платье и кокошник дополнят Ваш образ.
High heels or flat shoes will look good with this beautiful outfit, may I suggest velvet «khussa», Indian embroidered evening slippers.
С этим красивым нарядом хорошо будут смотреться высокие каблуки или туфли на плоской подошве, могу предложить бархатные «хусса», вечерние тапочки с индийской вышивкой.
Ballet «Tsar Maiden» with Anastasia Kolegova:
Russian fairy tale «Tsar Maiden» – «ЦАРЬ ДЕВИЦА» АУДИОСКАЗКА: